News Archive
Audio Adventures
Giles Paley-Philips has got a podcast up and running. It's called 'Blank' and he and a colleague interviewed me in a murky basement cafe, Nordic, in London. We had a good time and I think it'll be ready for listening soon.
I did a recording of my book 'Unexpected Twist' for a company called 'Bolinda' who also recorded me doing all the books – bar the latest – that I've done for Andersen Press. Here's Volume 2. You can find them all on Audible.
bolinda.com/uk/search/newreleases.aspx?/1/9E43EF2D-276E-4531-BEB5-DC9EBED2BE15/1/29/0/0/1/1/1/28/30%20June%202017-30%20September%202017
My latest book for Andersen Press is Hampstead the Hamster which has a special Christmas touch to it.
penguin.co.uk/books/111/1116199/hampstead-the-hamster/9781783447329.html
---
What the Dickens…
On the way back from recording the programme, I went to Cleveland Street in London. This is very special for anyone interested in Charles Dickens, and in particular, Oliver Twist not only because Dickens lived in Cleveland Street twice in his early life, but because from the house, young Dickens would have been able to see people coming in and out of the Cleveland Workhouse just down the road from his home. Both his home and the Workhouse are still there, so you can get a real flavour of what it was like and there's every chance that that experience fed into Dickens's writing about the Workhouse in Oliver Twist. By the way, the old Workhouse building was very nearly knocked down a few years ago, but it was saved, thanks to Dickens enthusiasts.
workhouses.org.uk/ClevelandStreet/
en.wikipedia.org/wiki/Cleveland_Street_Workhouse
There's a plaque on the wall of Dickens's home there:
news.fitzrovia.org.uk/2013/06/10/plaque-unveiled-to-identify-charles-dickens-first-london-home/
– and in a lot of other places in London, like the Dickens Museum in Doughty Street
and his birthplace in Portsmouth.
charlesdickensbirthplace.co.uk
And here's my book Unexpected Twist which tells two stories – a shortened version of Dickens's Oliver Twist and a brand new story that I've written based in part on the Dickens story!
shop.scholastic.co.uk/products/Unexpected-Twist-An-Oliver-Twisted-Tale-Michael-Rosen-9781407188560
---
September's News
I've been busy visiting schools this month doing my performances of my poems and stories. I can see that everyone I meet wants me to do 'Chocolate Cake', 'No Breathing in Class' and to make the noises I do in 'Hot Food' – choop, lip-smack, NICE! It's very funny when I start to do them because everyone joins in straightaway. It makes me feel like a singer singing their greatest hits!
I visited the Pitt-Rivers Museum in Oxford and the Natural History Museum next door. They are amazing places. So many incredible things to see. If you're ever in Oxford you must go. Don't laugh – I was looking at old brooms! It's to do with a radio programme that my wife is making.
Radio 4 are making a programme about learning poems off by heart. Gyles Brandreth interviewed me for it, so that might be coming out soon.
There was a conference in Oxford to do with writers and their education and I spoke about my book So They Call You Pisher! which in some ways is a book about how different kinds of education – school and home – turned me into a writer. It was great to hear Beverley Naidoo speak about her life in South Africa and how she began to write books like Journey to Jo'Burg.
I visited the literary festival at Budleigh Salterton and I realised that I had been there before. I didn't recognise anything because it was when I was 4 years old, 68 years ago!
---
Audio Book Recording
I did some audio recording of a book I edited called Workers' Tales published by Princeton University Press. It's old stories published by socialist and Labour newspapers between 1880 and 1920. I've edited it and written an introduction. Find out more…
---
Emile Zola
I've been having some meetings to do with my book about Emile Zola – The Disappearance of Emile Zola, love, literature and the Dreyfus Case published by Faber. I can't say any more at the moment, but I'm a bit excited. (In other words, very excited.)
---
Football
My son and I share season tickets with a friend and it was good to sort that out this month. We went to see Arsenal versus Everton. Great goal from Lacazette but we only won because Cech made some incredible saves. Still, the best football moment of the month had to be Eden Hazard's incredible goal against Liverpool. Sometimes, in football it doesn't matter that the player plays for a rival team: a great moment is a great moment. It was just wonderful to watch. Even though we were at home watching it on TV, I stood up and clapped. As if he was there.
---
The Author
In 1997 I completed a Ph.D. on the subject of authoring a piece of children's literature – a book of poems that was eventually published as You Wait Till I'm Older Than You (Puffin). I have self-published this Ph.D. thesis and it is out now in the form of The Author: Towards a Marxist Approach to Authorship. Find out more…
---
Latest YouTube
I've been filming some more things for our YouTube channel. A live show, which you can see up on the channel now and an interview with the great writer, David Almond, author of Skellig and many other books. Watch now
---
Summer
I hope you've all had a great summer. We went to various places, one of them, Ventnor on the Isle of Wight. We had a great time – I found a cafe that sold raspberry sorbet. My two favourite ice creams are raspberry and blackcurrant sorbet, though I can manage dark chocolate, rum and raisin and cookie dough too.
---
Newsletter
I have a new email Newsletter that I am sending out regularly. Here is a teaser…
If you would like to receive this then you need to sign up and subscribe to it. The sign-up form can be found below:
---
New Books
I've got some books coming out in September:
Uncle Gobb and the Plot Plot – this is the third in my Uncle Gobb series. Poor Malcolm has to love with his Uncle who is mad keen to tell Malcolm what to do. And he keeps asking him questions and telling him how he should be better than it is. Once again, Malcolm is plotting on how to get rid of Uncle Gobb. But – meanwhile – Uncle Gobb is plotting on how to get rid of Malcolm. Luckily Malcolm has got his great, great, great friend Crackersnacker to help him. And there's a girl called Lizard who is helpful too.
Unexpected Twist – this is a book based on Oliver Twist by Charles Dickens. Perhaps you know a bit of that Dickens story – about a boy who has no parents and is in the Workhouse. What I've done is imagine a story that is a bit like the Oliver Twist story. And this time it's a girl. In the Dickens book, Oliver gets in with a bad crowd, even though he doesn't realise it at the time! Can you think how that might happen today? How could someone not know they were getting hooked in to a bad crowd?
The paperback of my book Jelly Boots, Smelly Boots is coming out too and this has in it some of my favourite poems: a mix of funny, crazy, sad, mysterious and great, great pictures by David Tazzyman. Hope you enjoy it.
I've been writing some more books too! I'm working on a book to do with how I found out what happened to my father's uncles during the war. It's a very sad story but at least I've been able to find out and so they are not forgotten – which is how it was when my Dad was alive. He never knew what happened to them. And now I've found out. It doesn't bring them back alive but at least they are remembered properly.
I've also written what I hope is a funny fairy story…I don't know yet whether any publisher will want to publish it. That's what it's like when you're a writer. You write something. You hope it's good. You send it off and you wait to see if a publisher likes it and thinks that they can make it into a book. So, I'm sitting here with my fingers crossed!
---
June's News
On June 13 it was great to go to the Social History Society's annual conference in Keele University. People were giving a whole host of papers on their research on social history of the past and present. I talked about my memoir So They Call You Pisher! which gives a view of what it was like growing up in the London suburbs in the 1940s, 50s and 60s coming, as I did, from a background of people who came from 'outside'. My parents were from London's East End, Jewish in background, and so there was a big contrast for me and my brother, between the world our parents talked about from before the Second World War and the world we grew up in.
In the evening of the same day, I went to the Wiener Library in London, which is a remarkable archive of the history of Nazi Germany. They have regular exhibitions and this one is about what the Nazis called 'decadent' art, the art they despised and thought was 'degenerate'.
On June 14, my son and his friend, Ian organised a pub quiz event on behalf of St Joseph's Hospice in Hackney. Ian's mother, who I knew well, sadly died in the Hospice but in order to show his gratitude for the way they cared for her they set about raising money for it. Anyway, I was the quiz-master. I don't have many ambitions left, but one of them was to be a quiz-master! It was fantastic fun, making up the questions, doing them and I met a young celeb: Liam from 'Bake Off'! He was at the same school as Ian and my son and he agreed to do some cake questions – o yes! – and act with me doing bits of dialogue from famous films.
---
Matchwomen's Festival
Great fun at the Matchwomen's Festival which commemorates the wonderful strike by the women who worked at Bryant and May's matches factory in London's East End in the 19th century, organised by Louise Raw who's written a book about it. I talked about So They Call You Pisher! (which talks quite a lot about my parents who came from nearby). It took place at Bow Arts, where Emma-Louise Williams and I organised an exhibition of the East London Group of painters only a few months earlier.
---
Bear Hunt
Great fun at the Lyric Theatre, Shaftesbury Avenue, London, where the show, 'We're Going on a Bear Hunt' based on Helen Oxenbury's and my book, is on. I was asked to come along and do a workshop with the audience. We went on all sorts of other 'hunts', the children making up going on a 'robot hunt' or a 'snake hunt' and the like, and they came up on stage and we made all sorts of funny noises. Great fun to work with such young children who were really brave to come up on stage like that!
---
YouTube
Live webcast. I did a two and a half hour webcast on our YouTube channel. We had loads of questions, shoutouts, queries and I did various poems. You'll be able to see it up on our YouTube channel very soon – or it's up there already! I never know exactly as these things are sorted by my son Joe!
Speaking of my YouTube channel, we have released a batch of official T-Shirts. They are available to order now!
---
Meningitis Research Foundation
I recorded an appeal for Meningitis Research Foundation, that is broadcast on BBC Radio 4. This will go out in September, so listen out for it! It's focussing this time on a research project on vaccinating women when they're expecting a baby as this may well give the babies great immunity to meningitis.
---
Wiggly Wiggly
A lovely board book version of 'A Great Big Cuddle' comes out on the 2nd August. It's called Wiggly Wiggly and it's got the most wiggly, funny, rhymes from the book, ideal for the very youngest children to have and pour their gunky food all over and chew the corners. Ah, I remember it well! And to think that my oldest child who used to give his books a really good going over is the one directing me on YouTube!
Anyway, it's Wiggly Wiggly published by Walker Books. Find out more…

---
How to Make Children Laugh (Quercus)
This book is out now, and it was covered by Chris Evans on his breakfast show on BBC Radio 2. We had a good chat and he was very enthusiastic about it – which was great – but very unexpectedly, straight afterwards, Vassos, the guy who does the football round-ups, started talking about Chocolate Cake. I think he was talking about my performance on video at our YouTube Channel – Kids' Poems and Stories with Michael Rosen. In case you hadn't seen it, that version of the story is now in paperback form published by Puffin. Find out more…
---
Chocolate Cake (Puffin)
Congratulations to Kevin Waldron who did such wonderful pictures for this book! He won the Children's Books Ireland prize for illustration.
Further Chocolate Cake news: the Polka Theatre did a wonderful musical based on the poem, and I went to see it a couple of times. It's now on tour around various venues in the country. I think it'll be back next year playing various venues then.
---
Dublin
I had a great time in Ireland doing a show in an old theatre converted from a church in a place called Smock Alley. We had fun thinking about people making smocks in an alley. But first, the children had to tell me what a smock was…
---
Jack Zipes
Professor Jack Zipes, one of the world's great experts on folklore, folk and fairy tales was over in England and we were delighted to host him talking to us at Goldsmiths, University of London. He talked about how fairy tales have a social and political relevance, particularly when they talk about power and haven't been stripped of this relevance by people trying to 'civilise' them. I've been reading his latest book, 'The Sorcerer's Apprentice' – a magnificent book, exploring the significance of the master-slave, boss-apprentice, adult-child relationship as shown through the many different versions, (anthologised in the book). Highly recommended. Published by Princeton.
---
Wellcome Museum
I'm working with them on a project which is under wraps at the moment!
---
Eddie Steele Rosen
As you probably know, dear Eddie died in 1999, when he wasn't quite 19. Every year, his old mates who he played hockey with, organise a memorial game. The team was part of Arsenal Community sports, run by the wonderful Freddie Hudson. Well, the 19th game was on June 9, on the pitch in the Arsenal Hub and there was a fantastic crowd of Eddie's ex-team-mates, their friends, partners, and now: people's children. So we had a great time, and swapped news, and there's a wonderful moment when we remember Eddie and I give the award for the best player, the award being a goal-keeper's glove mounted on a wooden plinth, reaching for and holding a bottle of Efes beer – Eddie's favourite! Great moment, as always – and I even played for a few minutes! We make a collection and give it to the Meningitis Research Foundation. Here is a photo from last year's game:
---
Writing for Pleasure
Here's a booklet I've done to support work that teachers are doing in helping pupils write for fun. It focusses on a technique of using the shape and 'syntax' of stories that are already written and imitating them and/or inventing aspects of them. I give an example of doing this using the plot of 'The Tempest' in order to write a modern story.
---
On the Road With So They Call You Pisher!
I've been talking in quite a few places about my memoir So They Call You Pisher! (Verso Books) and it's turned into a kind of 45 minute stand-up comedy routine. My parents were in their own way both comedians and so it's good to get their jokes and ways of going on 'out there'. I've now made a recording of the book and it will come up soon on Audible, iTunes and Amazon.
---
More Chocolate Cake
The Polka Theatre has come to the end of its run of Chocolate Cake – a show based on my poem of that name and some other poems. I saw it twice and thought it was wonderful, so full of fun and music and inventive digital work. I'm really glad to say that it's going on tour this year and will, they hope, return for another tour next year.
---
National Union of Teachers
It was a great honour to give a short speech at the final conference of the National Union of Teachers before they go into one big union the National Education Union. No matter what criticisms I make of government policy on education and though this is sometimes a criticism of what goes on in classrooms, I keep trying to say that this is not a criticism of teachers. I fully understand that teachers have to do what the government, Ofsted and the testing-exam system tells teachers to do. I hope that that is always clear. If it isn't, then I hope I can make that clear here. It's always been my aim to support teachers in their professional job of doing their best by children, parents, families and community. I believe that the excessive test and exam system, policed by league tables and enforced conversion, prevents teachers from assessing pupils in ways that can directly help the pupils.
---
Newham Bookshop Celebrations
It was great to do an evening at the Wanstead Tap in celebration of 40 years of the Newham Bookshop, a fantastic community bookshop that supports community reading in hundreds of different ways. Viv Archer who has managed the shop in all that time is a friend and colleague and it's always been a delight to do readings of all kinds for the bookshop. Long may it thrive!
---
What is Right & Wrong?
A book I did with Annemarie Young called What is Right & Wrong? published by Wayland has come out. It's to help anyone reading it how to decide the really big stuff in life and living.
---
A Book About A Dog
I've been writing a rhyming picture book for Scholastic. I can't say much about it yet – top secret! – but it's about a dog. Well not actually 'about' a dog – more, 'by' a dog. OK, I realise a dog didn't write it, but you get what I mean! Anyway, I'm still working on it. I mean, the dog's still working on it.
---
Royal Albert Hall Shows
I've done a rehearsal for two huge shows at the Royal Albert Hall on March 11. I've written the words for some songs based on the Greek Myth, Daedalus and Icarus. The music is written by Will Todd and I'll be doing the narrating – the spoken bits between the songs. We rehearsed at our home, and the conductor brought his little 2 year old boy with him and he played with our children's old soft toys and ate houmous!
---
So They Call You Pisher!
In my memoir, So They Call You Pisher!, I put a photo of my father's uncle in his army uniform. I thought that he had been in the French Army in the First World War. It turns out that he was on the other side: he was in a Polish regiment in the Austro-Hungarian Army. How do I know? Because I posted up the picture on twitter and people tweeted me to tell me. The power of social media, eh?
---
Other Happenings
I had a great time in Oxford with my students from Goldsmiths. We talked about Edward Lear and Lewis Carroll and their nonsense poems and stories. Imagine that! A whole Saturday talking nonsense. (Sounds a bit like me most Saturdays, actually!)
I've just heard that BBC Radio 4 have asked me to present five shows about words like 'post-fact', 'fake news', 'debt', 'doom' and the like. I'm really looking forward to it.
---
New Books
I've pretty well finished my Oliver Twist book. It's hard to explain but really, like Bah! Humbug! it's 2 books in 1. That's to say, there's a cut-down version of Oliver Twist and there's a brand new story that I've written about a girl called Shona, who is in a way a bit like Oliver. She and her classmates are reading Oliver Twist in class, exactly while Shona gets into trouble over the matter of getting a 'free' phone! Tony Ross is going to illustrate it and it'll be out in September or October this year.
I've also finished a book that goes with the series of books I did with Tony Ross that includes Fluff the Farting Fish and Choosing Crumble, all published by Andersen Press. The latest is called Hampstead the Hamster about a boy who gets a hamster for Christmas…but something is wrong: the hamster is unhappy. Luckily, the boy – Leo – is very good at figuring out what Hampstead wants. Will he be able to cheer him up? Let's hope so!
---
YouTube
You may have seen on my YouTube Channel, Kids' Poems and Stories with Michael Rosen, that I did another live web chat. It went very well at the beginning but then we ran into 'technical problems' and I started to fade into a fog. It looks a bit like some kind of sci-fi movie. I have to say, it wasn't what we meant it to turn out like, but – hey – we're busy learning how to do these things and at least you know it's for real, and we're not puppets!
---
Lollies Update
The Lollies award ceremony was amazing with great acts and performances from the Horrible History Show and Alesha Dixon read from her children's picture book. And then the prizes were announced. If you want to find out what are the funniest books of the year, go to the Lollies website and take your pick! I have a strong connection with this prize because it's sort of 'my baby'. I mean, when I was Children's Laureate, I helped create the Roald Dahl Funny Prize, and the Lollies Award has taken over from it. It's great to celebrate funny books, don't  you think?
---
Other Happenings
As I said, in my last 'News' I was going to visit my old school, Pinner Wood, in Harrow, North London. It was amazing to see it. It's survived falling down into the chalk mines that were found underneath the school. The head told me that they aren't prehistoric ones – I thought they were! They were dug by a farmer who lived just up the road and thought that he could sell some chalk. One problem: he didn't fill in the holes and tunnels! So, over a hundred years later, the playground suddenly opened up and there was a great big hole down there. They put a camera on a cable to look and they saw the tunnels. It reminds me a bit of when I was a boy in Pinner we went down an air raid shelter that we found in the Memorial Park.
I was very honoured to take part in the Cambridge memorial days for Holocaust Memorial Day. I read some poems about my relatives who died in the Holocaust and school students from several schools – Parkside and Trumpington amongst them – wrote fantastic poems themselves.
And then I made some more videos for the YouTube video channel. This time I've told some stories about someone I call the 'Bakerloo Flea Woman' who comes from a book that I wrote called Nasty. I also made some little videos for the Polka Theatre for the show they are going to put on from March to May based on my poem Chocolate Cake and some other poems too – with music by Barb Jungr.
---
Why Read? Why Write?
Teachers may be interested in my new booklet: Why Read? Why Write? It's a set of articles about reading and writing to inspire you and your pupils with great language work. Some of it comes from my talks with my MA students at Goldsmiths, University of London. Find out more about the book.
---
More Dickens
I'm deep in the middle of writing the follow-up to my book Bah! Humbug! that came out for Christmas. That one is based on A Christmas Carol by Charles Dickens and this new one is based on Oliver Twist – also by Charles Dickens. With Bah! Humbug! we had the idea of a modern family where some of the people in the family are like the characters in A Christmas Carol so Dad is a bit like Scrooge, the daughter, Eva, is a bit like Tiny Tim and so on… The children in school are putting on a play version of A Christmas Carol. The pictures are by Tony Ross and we both dressed up in Dickensian clothes to go on BBC Breakfast and Newsround to talk about it. 
We sat in the studio in our Dickens' outfits chatting to the presenters and we had finished, Tony said, 'When do we do the show?' I said, 'We've just done it, Tony!' He said, 'Oh, I thought that was us just rehearsing.' He didn't realise that we were on live television and it was all over!!!
This time with the Oliver Twist story I'm writing about a… No! I can't say any more. You'll have to wait till it comes out next Christmas!
---
Lollies 2017 Book Awards
On January 18 there'll be the Lollies Awards. This is the prize for the funniest children's books of the year. I'm the chair of the judges and each year since I was Children's Laureate – first with the Roald Dahl Prize and now with the Lollies Awards, we've been celebrating funny books. 
Who is going to win? I don't know! Children in schools have been voting for the best book and I haven't seen the results. 
---
Watch Me Live on YouTube
Also coming up on January 17 is the second of my live web chats. Follow the instructions on my YouTube channel and you'll be able to ask me questions about any of my poems or stories or anything at all really! If you leave your name (or a nickname) I'll do shout outs. I'll do some poems too and stuff that just comes into my head! My voice was a bit hoarse last time because I had a cold. I was half wondering if I would end up whispering! Hopefully, I won't have that worry on January 17. Hope to hear from you…
---
Pinner Wood
On January 19 I'm going back to my old primary school, Pinner Wood, in Harrow. A couple of years ago, they had to close the school because they discovered ancient chalk mines underneath the school. They thought the school might collapse into the tunnels. Just think, when I was there in the early 1950s, I was playing in the playground and going to lessons and none of us knew that deep down under the school there were these big holes and tunnels…and at any time the school could have fallen down! Anyway, they seem to have filled up all the tunnels (or something!) and I'm going to visit. I've been eating a lot of Christmas pudding over the last few weeks. I hope I'm not too heavy!!!
---
Gobb News
Great news coming up with my Uncle Gobb books: Uncle Gobb and the Green Heads is coming out in paperback soon (January 11th) and my brand new Uncle Gobb book – Uncle Gobb and the Plot Plot is coming out later in the year. More news on that in next month's News.
---
My Booklet for Teachers
Teachers: my booklet Poetry and Stories for Primary and Lower Secondary Schools is about ways of reading and writing poems with children. It also has a 'matrix' for evaluating how children are responding to poems. It's available through this site via Amazon or you can get it from Bookmarks Bookshop or Newham Bookshop in east London. The booklet is based on my course at Goldsmiths, University of London, where I teach on the MA in Children's Literature. One term of this course involves teachers developing projects with their class, encouraging or enabling children to read, write, respond, comprehend literature. We discovered that there weren't really any full and rigorous descriptions of how children respond to texts, so I've devised this 'matrix' to help. It links to my book What is Poetry? The Essential Guide to Reading and Writing Poems (Walker) which is intended for both children and teachers. 
Later in the year, I'll be bringing out another booklet that is more focused on writing – also based on sessions on our MA course. If you're interested in doing this MA please go to the Goldsmiths website to see how you can apply. 
---
Books Update
For adults reading this, I can tell you that my book The Disappearance of Emile Zola, Love, Literature and the Dreyfus Case is out in paperback now. My memoir, about me growing up, going to college and discovering the tragic story of my father's uncle, has been out for a few months: So They Call You Pisher! (Verso). 
---
Live Web Chats on YouTube
I've had the strange experience of losing my voice. I've been walking about whispering and waving my hands in the air. This is not great for when I'm doing radio. (Joke!)
It was great fun doing a live web chat on my YouTube Channel. We did this on December 15 and you can see the two halves up on Kids Poems and Stories with Michael Rosen at YouTube. If you'd like to get a shout out or ask me questions on the next one, look out for me mentioning it here or on twitter and Facebook. What I do is chat away for an hour answering your questions and reading out new poems and things. My son Joe Steele Rosen films it on his mobile!
Next live web chat – January 17. See you then!!!
---
Bah! Humbug!
This Christmas, I brought out Bah! Humbug! with wonderful pictures by Tony Ross. It's about a boy called Harry who plays the part of Scrooge in the school play of A Christmas Carol by Charles Dickens. He loves doing it. The problem is that Harry's dad can't be bothered to stay for the whole show because for him, work comes first….Harry sees Dad leave right in the middle of the show….will he be able to carry on?
---
New Booklet
If you're a teacher and you're reading this, you might be interested in my little booklet that I've written: Poetry and Stories for Primary and Lower Secondary Schools. It's ideas and thoughts about how to do poetry and stories, why do we do them in schools and what I hope is a useful 'matrix' for looking at how children and students talk about poetry and stories. I developed it with my students (most of whom are teachers) at Goldsmiths, University of London. You can get it from Bookmarks Bookshop or Amazon.
---
My Latest Adventures (November 2017)
I've been in Cambridge a lot recently helping with their fantastic Historyworks project. This involves thousands of children across Cambridge in discovering history beneath their feet. Cambridge isn't just the university (which has been there for over 800 years) but all sorts of amazing stuff like exploding fossil dinosaur poo, a Leper colony, Isaac Newton buying glass prisms in the market which as a boy he called 'prisons', and stone lions that get up in the might to drink water from the gutter! My job has been to help children write poems about it, while writing some of my own.
I've been going all over the country talking about memoir So They Call You Pisher! and I've even met people who I've written about in the book, some of whom I haven't seen for 40 years or more. One person I met – and this was very moving – was the wife of my English teacher, who I've written about in the book. I also got a letter from a man who is 101 years old who I last saw in Germany when I was 11! He's been writing poems and his autobiography too.
An exciting thing coming up is that the Polka Theatre for Children in London is going to put on a play based on my poems. I met up with the director, Peter Glanville,  and song-writer, Barb Jungr to discuss what would be in the show. I really have no idea what it's all going to sound like but I'm very excited by it. I'll keep you posted.
Fun thing happened to me the other day. I went into a little Turkish cafe on the Holloway Road – called Crystal – to pass the time while something else was going on. Soon some families came in and one by one the children recognised me and were soon calling out 'Noice!' and 'Don't put mustard in the custard!' and asking me for selfies. Everyone came from different backgrounds, speaking different languages. In the end, the whole cafe was asking me questions, getting selfies while I sat there eating my lamb and aubergine and rice! It felt so friendly and fun and it was everything I like about living in London. Then I thought if I had known 50 years ago that such a thing would happen to me, that I could sit in a little cafe and people would call out my poems at me and have such fun, I wouldn't have believed them.
---
Welcome To My New Website
I hope you can find your way around it easily.
I know that some people who come to the website are looking for answers to questions about who I am, where I was born, where I grew up and that sort of thing. All that's here! Others are looking for books I've written, or places where I'm doing my shows, or maybe just some news of what I'm doing. I hope you'll find that sort of thing here very easily.
---
Chocolate Cake
My latest book for children is Chocolate Cake. It's been beautifully illustrated by Kevin Waldron. If you know my video of Chocolate Cake, then the book has all the words and noises I make on that video. It's published by Puffin Books. When you read it, you can make all the noises yourself!
---
My YouTube Channel
Talking of 'Chocolate Cake', some people who know that video don't realise that I have a video channel on YouTube where my son, Joe Rosen has put up over 200 of my poems, songs and stories. It's called 'Kids Poems and Stories with Michael Rosen'. If you subscribe to it, you'll get a note telling you about new videos that Joe puts on there.
Kids' Poems and Stories With Michael Rosen – YouTube
---
This Month (September 2017)
This month I'm visiting some schools where I perform my poems and do workshops to help children write poetry. You can see what I do in these workshops in my book 'What is Poetry? The Essential Guide to Reading and Writing Poems' (Walker Books)
I'm also recording radio programmes for BBC Radio 4. These are mostly 'Word of Mouth', the BBC programme about words and language. They go out on Tuesdays at 4.00 and Mondays at 11.00 pm. In one of the programmes, I interview Malorie Blackman, the author of 'Noughts and Crosses'. After the programmes go out, they all go on to BBC iPlayer. Anyone reading this who does A-level English language would find these programmes very useful.
---
Gerard Manley Hopkins
On October 1 at 4.30 on BBC Radio 4, I'm doing a programme about the poet Gerard Manley Hopkins and how he invented a new way of writing. I visited the place where he did this and talk to the poet Michael Symmons Roberts. For anyone studying Hopkins', I hope this programme will be interesting for everyone but for anyone studying Hopkins, I think it covers some useful stuff!
---
Michael Rosen's Reading Revolution
Teachers, if you're interested in helping make your school one that really focusses on reading for pleasure, then you could come to our conference on reading at Goldsmiths, University of London 'Reading Revolution'On September 23.
Michael Rosen's Reading Revolution, Goldsmiths
I teach at Goldsmiths where I'm a Professor of Children's Literature. We run an MA on children's literature, for teachers, librarians, or anyone interested in looking more closely at children's books, or writing them or illustrating them. We have three 'pathways' – critical, creative and illustration.
---
So They Call You Pisher!
This month I've got my autobiography coming out, published by Verso. Well, it's not the whole life! It covers my first 23 years and there's family history I uncovered too. I'm doing a tour talking about the book at festivals and arts venues. It's called 'So They Call You Pisher!'
---
The Working Artist
Emma-Louise Williams and I are curating an exhibition of paintings done by the East London Group. It's on at the Nunnery, Bow Arts in Bow, East London, running from September 29 to December.  A good deal of the East London Group's work was focussed on the streets, buildings and parks of East London running from the late 1920s to the 1950s.
The Working Artist: The East London Group | Bow Arts
---
New Interactive VR Video
This is a VR film of Mo from A Great Big Cuddle. On a computer you can scroll around with your mouse. On a phone you can move around using the handset to look around, or you can watch it on a VR headset and have look around.
Video directed by Joe Rosen.
---
9 New Videos For April & May
My son Joe has filmed a further 9 videos of me reading poems from several different books. Here are the last three. I hope you enjoy them.
---
New Shakespeare Videos
Here are 3 new videos of performances based on my book What's So Special About Shakespeare?, published by Walker Books. All films directed by Joe Rosen.
---
New Videos of My Poems
My son Joe has filmed 12 more videos of me reading poems from several different books. Here are the final three. I hope you enjoy them.
All the videos were directed by Joe Rosen.
---
Share A Story 2016
This year I'm really excited to be working with CITV as the Ambassador for their BAFTA winning Share a Story competition which gives children the opportunity to embrace their inner storyteller. Each year Share a Story asks children to enter their stories into our competition with the winning tales brought to life and put on CITV. I'll be running a scripting workshop with our four lucky winners to help develop their stories.
This competition is a fantastic chance to come up with a story and see it turned into an animation. What a treat! Imagine your words, your ideas, your story, on TV as an animated film. Something very, very special.
Share a Story is now open to children aged 5-12 until 29th April 2016. To find out more or to enter the competition head over to the CITV website.
---
A Great Big Cuddle
Here are two more videos of me performing poems from my book, 'A Great Big Cuddle', with pictures by Chris Riddell, published by Walker Books.
All the videos were directed by Joe Rosen. Go behind the scenes and see how they were made.
---
Uncle Gobb and the Dread Shed
I've written a book called 'Uncle Gobb and the Dread Shed' and it's illustrated by Neal Layton. If you like funny books, this could be a book you'll really enjoy. You can find out more at: www.bloomsbury.com/
I've also made some videos telling you all about it:
---
Chocolate Cake
Quite a few people recently have asked me where they can find the words of 'Chocolate Cake'. As you probably know there is a video of me performing 'Chocolate Cake' right here, along with 91 other poems filmed by my son Joe plus some other videos of me in performance from BBC Learning in Scotland and the like.
The words of 'Chocolate Cake' are in my book of poems: 'Quick Let's Get Out of Here'. It's in print and published by Puffin Books.
---
In Print List
As a reminder, my books of my own poems in print are:
(for younger readers)
Mustard,Custard, Grumble Belly and Gravy (Bloomsbury)
Something's Drastic (HarperCollins Education)
Even My Ears are Smiling (Bloomsbury)
Bananas in my Ears (Walker)
Michael Rosen's Book of Nonsense (Hodder)
Even More Nonsense (Hodder)
No Breathing in Class (Puffin)
(for older readers)
Quick Let's Get Out of Here (Puffin)
You Wait Till I'm Older Than You (Puffin)
Centrally Heated Knickers (Puffin) (these are poems that have link to ideas of science)
Michael Rosen's Big Book of Bad Things
(videos)
WARNING: YouTube is a 'free-for-all' site. Quite a few people have fun taking my videos and making new versions of them, known as 'poops' or 'YTPs' Many of these are not suitable for young children. I am not responsible for either the words or pictures of these. If you want to be sure that you're looking at videos that I made, please only go through this site. Or, if you look closely on YouTube you'll see the tag 'artificedesign' . Click on that and you'll see a 'room' of all 92 videos that I filmed specially for this site.
The Hypnotiser (out of print) – nearly all the poems from this book are here as videos on this site.
Michael Rosen Live – a video of me in performance in a theatre available from jan@speakingofbooks.co.uk
(audio)
There are several audio versions of my work:
Mustard, Custard, Grumble Belly and Gravy (Bloomsbury) includes a CD of the book
Even My Ears are Smiling (Bloomsbury) includes a CD of the book.
A firm called Abbey Media put out audio versions (performed by me) of:
Quick Let's Get Out of Here
Hairy Tales and Nursery Crimes
Sonsense Nongs (me singing silly songs accompanied by Peter Gosling who once played 'Captain Keyboards' on TV – great fun for car journeys!)
I am reading quite a few poems at the Poetry Archive.
---
New Series of Free Videos
I have just released a new series of videos titled 'Poems And Stories About My Family'. The poems are all taken from my books and this series of performances was produced by my son Joe. You can watch them now here!
---
Warning For Parents and Teachers
Please please please play or download my videos from this site only. These are the only videos officially sanctioned by me as being suitable for children. If you go to YouTube to download or play videos, I can take no responsibility for the material you or  the children in your care watch. Please be warned: just because my face and/or voice is on a YouTube page, it does not follow that it has anything to do with me.
YouTube is an 'open' site, which means that the videos belong to anyone and everyone. Anyone can take them and do what they want with them.
Please take note of this.
---
Reviews
Here are some reviews of 'Tiny Little Fly':
blaine.org/sevenimpossiblethings/
TINY LITTLE FLY. Text copyright © 2010 Michael Rosen. Illustrations copyright © 2010 Kevin Waldron. Reproduced by permission of the publisher, Candlewick Press, Somerville, MA on behalf of Walker Books, London.
---
February Roundup
This is an interesting blog on children's writing, education and poetry by Anthony Wilson.
Here's me taking part in a Guardian podcast with discussion about books.
You can watch a video of me performing with the Homemade Orchestra here.
I was asked to choose a Champion of the Week for the Guardian – David Crystal – and then several debates broke out.
This is an article I wrote about global English for the BBC News Magazine.
Government withdraws all funding from free books for children programme, and my response – once in the article and once more in the thread below!
Here's my article on it.
This is an article I wrote about libraries for 'The Sun' newspaper
This is an article I wrote for 'Socialist Review'.
---
December Bits
Here is the longlist for the Warwick Prize for writing, which I am co-judging .
I've helped do some additions to the London Grid for Learning present Perform a Poem. I have chosen a top ten performance films. Please show the children you know and teach.
Here is an interview with me in the USA's Publishers' Weekly.
Here is a write-up of this year's Roald Dahl Funny Prize in Guardian.
Here's my recommended read for the New Statesman.
Here's a teaching suggestion from the British Council with my poem 'Orange Juice' from 'Quick Let's Get Out of Here'.
Here's a review of my book of 'Poems for the Very Young'.
---
Where Will I Be?
Some people have been asking me recently, when am I next doing a public performance in London?
I'll be on at Bookmarks Bookshop
1 Bloomsbury Street, London WC1B 3QE  – Tel: 020 7637 1848
Sunday December 18
2-3pm
www.bookmarksbookshop.co.uk/
---
Latest News and Reports of What I've Been Up To
A great evening happened in Dalston.
Interview with me in Reading University's magazine.
Here's me interviewing the wonderful French novelist and champion of books, reading and books in schools, Daniel Pennac.
Here's me trying to save libraries.
Manchester Literature Festival write-up of me performing.
Here's the critic Brian Alderson writing about my very first poetry book for children: 'Mind Your Own Business'
Come to this wonderful poetry video site. I've recorded several poems here that I've never recorded anywhere else:
Lovely write-up of the Bath Children's Literature Festival with a walk-on part for me!
The wonderful children's books magazine, Books for Keeps has done a feature on me and my new book: 'Michael Rosen's Big Book of Bad Things'.
Here's a  Guardian newspaper blog thread about spelling, grammar and punctuation that I contributed to.
A scandal about Shelley I wrote up for the Guardian at Comment is Free.
I'm a powerpoint presentation!
Interview with artist Kevin Waldron re our new book: 'Tiny Little Fly' .
This is me arguing with Simon Heffer about 'Correct English' on BBC Radio 3's 'Nightwaves'
Here's a write-up of me working with sixth formers at BSix college in Hackney.
---
'Big Book of Bad Things' Reviews
I've had some nice online reviews for 'Michael Rosen's Big Book of Bad Things'.
---
New Things
I have two publications that you may be interested in:
1. A DVD 'Michael Rosen Live' of me performing a selection of poems from 'Michael Rosen's Book of Bad Things' and some of the older books. It's a performance in front of a live audience, lasting about an hour and is available from
Jan and Kate Powling on jan@speakingofbooks.co.uk
2. I have republished 'Hairy Tales and Nursery Crimes' along with selected stories and poems from 'Arabian Frights and other Gories'.  If you're interested in buying a copy write to me at michael@michaelrosen.co.uk.
If you're a school that has booked me to come and see you, don't forget to order some from Jan and Kate on jan@speakingofbooks.co.uk
---
October Roundup
Here's a Guardian podcast of me talking about 'the books that made me'.
Here's what I wrote on a Guardian blog about children's humour.
Here's a podcast of me and a band called The Dulce Tones, performing a poem I wrote about urban regeneration schemes – called 'Regeneration Blues'.
---
New Books
Two new books on the way:
A new book of poems called:
'Michael Rosen's Big Book of Bad Things' (Puffin) due out later this year
…and a new picture book called:
'Tiny Little Fly' illustrated by Kevin Waldron (Walker)
---
July News Roundup
Here is my latest news from March to June 2010:
The Roald Dahl Funny Prize winding up again for 2010.
This is an article I wrote for the New Statesman magazine about the revamped Jewish Museum in Camden, London.
Here's a short Guardian article about family holidays.
…and here on a visit to a school in Bromley.
---
I was asked to give a quick speech to open the restored and updated West House in the Memorial Park in Pinner. I used to walk past this house on the way to school every morning and it was where my mother used to do Scottish Dancing lessons, It's not re-opening as a gallery space and archive for the artist and cartoonist, William Heath Robinson. Here's how the local newspapers wrote up the day; Harrow Observer and Harrow Times.
---
Fred and Anne Jarvis Award
I was awarded the Fred and Anne Jarvis Award by the National Union of Teachers for 'campaigning for education'. My parents were longstanding members of the NUT, my mother campaigned for equal pay for women, and my father for comprehensive education so it was a proud moment for me to receive this.
---
Authors Hotline
Here's a great new site called Authors Hotline. This is my page.
---
Articles and Podcasts
Here's an article I wrote for the Independent some time ago about going back to my old secondary school, Watford Grammar School.
---
December Roundup
Here are some reviews:
Adrian Mitchell celebration evening.
Red Ted and the Lost Things'
(you might have to scroll down to find them)
---
My Final Laureate Project: Perform-a-Poem
Thanks to Sasha Hoare, the last laureate idea that I had, has seen the light of day. This is a an 'e-safe' site for schools and children to post up poetry in performance. The poems can be poems that the children write, poems that are out of copyright, or poems that poets have given permission to schools to use.
Please log on and help turn the site – and schools – into places where poetry flourishes.
This is the address: http://performapoem.lgfl.org.uk/
---
Ex-Laureate
People keep asking me what it's like to be the ex-laureate and I'm pleased to say that it feels fine. I don't feel as if someone's chopped anything off me, I don't feel kicked-out, signed-off, pensioned-off or put in the sidings. I can't tell you how pleased I am that Anthony Browne is doing it. And that's for several reasons: firstly because he's been a great favourite of my children. I can remember my older ones poring over books like 'A Walk in the Park', looking and looking, laughing and laughing, as they started to find more and more new things in Anthony's pictures.
Then, I always like it when children's books do something new or odd or challenging and Anthony is someone who has dared introduce one of modern art's great inventions into children's books: surrealism. Surrealism puts what we think, not just what we see, into pictures. As a result, things that we don't think of as alike, sometimes sit there side by side within the same picture. Then it's our job as a looker at pictures to figure out why they're these things are there together. Or, if you don't like 'figuring',  you can just stare at it, and see what kinds of ideas and feelings pop into your head. And that great movement found its way into children's books, almost solely thanks to Anthony.
He's also a great champion of all drawing and painting. He wants us all to do it. He won't let us say, 'Oh I can't draw. I can't paint.' He says just the opposite: we can all do it. I remember him saying to me once in an interview, that we have a lopsided idea of literacy. We think that literacy is only or entirely about reading words. No, he said, we read pictures as well. And this is something we should learn about too. And it's not helped by giving children rubbishy little 'hack' drawings, the kind you get on exam papers, tests sheets and worksheets. That's just as bad as giving children rubbishy little stories. We should, he said, be giving children the best pictures and art we can find, and we should encouraging children to talk about it.
So, I think we're in for a great time, with Anthony as Children's Laureate.
---
The Roald Dahl Funny Prize
This is how it was announced this year:
The Roald Dahl Funny Prize was founded in 2008 by Michael Rosen as part of his Children's Laureateship. It is the first prize of its kind; founded to honour those books that simply make children laugh. The winner of each category will receive £2,500, which will be presented at an awards ceremony in London on 10 November.
The judging panel comprised the comedian Bill Bailey; author, founder and Chair Michael Rosen; author and illustrator Mini Grey; author Louise Rennison; and author and winner of the Roald Dahl Funny Prize 2008 Andy Stanton.
The Funniest Book for Children Aged Six and Under
The Great Dog Bottom Swap by Peter Bently, illus. Mei Matsuoka (Andersen Press)
Octopus Socktopus by Nick Sharratt (Alison Green Books)
Elephant Joe is a Spaceman! by David Wojtowycz (Alison Green Books)
Crocodiles Are the Best Animals of All! by Sean Taylor, illus. Hannah Shaw (Frances Lincoln)
Mr Pusskins Best in Show by Sam Lloyd (Orchard Books)
The Pencil by Allan Ahlberg, illus. Bruce Ingman (Walker Books)
The Funniest Book for Children Aged Seven to Fourteen
The Galloping Ghost by Hilda Offen (Catnip Publishing)
Eating Things on Sticks by Anne Fine, illus. Kate Aldous (Doubleday)
Grubtown Tales: Stinking Rich and Just Plain Stinky by Philip Ardagh, illus. Jim Paillot (Faber and Faber)
The Boy in the Dress by David Walliams, illus. Quentin Blake (HarperCollins)
Purple Class and the Half-Eaten Sweater by Sean Taylor, illus. Helen Bate (Frances Lincoln)
Ribblestrop by Andy Mulligan (Simon & Schuster)
On November 10 you'll hear which 2 books we think are the funniest of all, but all 12 are great reads. I hope you will all enjoy reading them, whether you are an adult, a child or in between.
---
Laureate Log #11
After two years of this laureateship, I think I can see that schools are divided between each other, divided between classes within individual schools and even divided within single classrooms. This division is between the children who live in what I'll call Worksheet Hell, and those who live in Bookland. The last ten years or so has put state primary schools into a state of anxiety: how will we look when the league tables are published in the local newspaper? The route that many schools have taken to deal with this worry, is to spend hours and hours with the children who are seen as 'slower' doing what are, in effect, rehearsal papers for the SATs.  So where a school thinks most of the children are 'slower', then this is what most of the children will be doing. Where a teacher sees a 'slow' group, this is what those children will be doing.
And what are these worksheets? They are imitations of reading. They are extracts of stories, they are (I quote from one of them) 'part of a myth'. And the questions that the worksheets ask are about the supposed 'facts' of a story, its logic and its chronology. This distorts and wrecks the purpose of reading. It deprives the children of a chance to use their own language to engage with the feelings and ideas that lie in literature.
This is going on quite knowingly. I was quoted in my local newspaper for saying these things. This was the reply from a spokesman at the local education authority: '…if a class of mixed ability studied lengthy stories in full, many of the children would lose concentration. There is a strong logic to the national curriculum.' Indeed, there is a 'strong logic' and it's consigning 'many of the children' to a life of extracts of stories and worksheets full of dull, pointless questions. And that 'strong logic' says that 'many' children just aren't good enough for whole stories. Is this where we've got to? Is this the level of understanding that people who run education have reached? In the name of 'entitlement' they've created a regime of segregation and discrimination. And it is discrimination, because if you deprive children of a chance to learn to love reading and books, you deprive them of access to the easiest and most pleasurable way of getting hold of complex ideas.
I think being the Laureate has brought all this into much sharper focus for me, whether that's been through the school visits, meeting Ed Balls and Jim Knight, attending conferences on reading or  making a TV programme on trying to create a book-loving school.
In terms of ideas, I wanted to follow in the footsteps of the four previous Laureates and leave some things that could help more and more children find their way to enjoying books. I did a series of performances around the country with other poets and out of that has come an anthology 'A-Z of poetry – from Agard to Zephaniah' which will be launched at the Edinburgh Festival in August. Most of the poets who perform their poems in schools are in there. Alongside that, it's been a treat to create with Morag Styles an exhibition at the British Library – 'Twinkle Twinkle Little Bat' – that celebrates the history of children's poetry. As part of the exhibition there's been a conference on Poetry and Childhood (a book to follow!) and a series of performances and workshops for the public.
On another front, we've got the Roald Dahl Funny Prize up and running so that parents, librarians, teachers and children can find their way to the 12 comic books on the shortlist including the two winners.
The last bits of the jigsaw are the things I am trying to put in place to encourage teachers to help children enjoy poetry. There's the 'Poetry Friendly Classroom' webpage at Booktrust's website, which is for teachers to exchange ideas and after the summer there'll be a website hosted by the London Grid For Learning where children will be able to post their poetry performances.
I think the Children's Laureateship is working. We've all brought to it something different. We've each found ways to stimulate different parts of the children's literature process and I'm sure this will go on. It seems to me that we're in a new phase in the history of literacy. The artefact of the book and all the different ways of putting things into a book are in a state of flux. Each time a school closes a library to make room for an ITC suite, it represents a moment of change in this history. Each time an education  spokesperson says that there are children who can't cope with whole stories, that too represents a moment of change. If we believe in the value and power of books, stories, poems and plays, we also have to remember that  it will never be enough simply to publish good stuff. We have to be committed, ingenious, flexible and experimental in coming up with ways of making all that literature come alive for every single child – no exceptions allowed.
Thanks for having me!
---
Laureate Log #10
I get the impression that a head of steam is building, putting pressure on the government to carry on loosening up the curriculum and to make more space for reading for pleasure. What's odd, is that it seems to be happening in a rather low key, almost covert way. As I've said before, I think we need a bold, clear statement from government that asks every local authority and every school to develop practical policies on how to make their respective patches into book-loving places for all. 'Just Read', the TV programme I did for BBC Four, showed that it's possible. If we don't get going on this, we will lose school libraries, local libraries and end up seriously discriminating against all children who come from homes where there are very few or no books. These are the children who find school so hard. Reading widely and often opens doors, and one of those doors takes you into formal education. It should be a priority to get every child reading many books and many different kinds of books. It's the most pleasurable way we know of getting hold of complex and abstract ideas.
The first months of 2009 have kept me busy. On BBC Radio 4, two programmes I presented about children's books went out – one about the 200 year history of 'Jack and the Beanstalk' and the other on the Russian 'Winnie the Pooh', who is known to Russians as 'Vinni Pukh'. I've also appeared on BBC Four's We Need Answers' (a joyously nutty quiz show), 'Bookaboo', ITV's book show for children, Sky TV's Book Show, 'The Daily Politics' and 'The Wright Stuff'. I've also been a judge on BBC's 'Off by Heart', a show about children performing poems. It was down to me to choose the overall winner for the London area and I chose a seven year old boy who performed a poem by Grace Nichols as if it was a rock gospel number. Stunning!
Meanwhile I've been round and about doing shows, workshops or talks in Orpington, Southampton, Sheffield, Beaconsfield, Upminster, City and Islington College (for a conference on Gaza), Barbican Centre, Wavendon near Milton Keynes (for a poetry and jazz workshop with Tim Whitehead from the Homemade Orchestra), Edinburgh (Scottish Book Trust conference), the Booktrust Conference in London, Newham, Norwich, The Stables in Milton Keynes, Coram Fields, Haverstock School in Camden, Solihull, a conference of Paediatric Anaesthetists in Brighton and the Bernie Grant Centre in Haringey. Meanwhile, my courses at Birkbeck and CLPE run on and I'm working with Hackney teachers on a Year 5 writing project.
On the progress of my Laureate projects: 'Twinkle Twinkle Little Bat', the exhibition on the history of poetry for children that Morag Styles and I have curated will open at the British Library on 1 April. Do take a look at it – it's in the foyer and it's free! The conference on children's poetry is a sell-out but there should be a book of the papers and talks to follow. The 'A-Z' anthology of children's poets (from Agard to Zephaniah) will be published by Puffin in August. Perform-a-poem, my idea of a poetry YouTube for children will happen with the London Grid for Learning and we're just gearing up for the second Roald Dahl Funny Prize for the funniest books for children. As a result of last  year's prize, my 8-year old daughter has become an Andy Stanton addict!
---
NHS Poem
The National Health Service asked me to write a poem to celebrate their 60th birthday.
Here's how it was reported on the news: British satellite news.
BBC News online covers the poem.
And here's how it looks and sounds when it's performed: Live performance of These are the Hands.
---
November Roundup
Here are two pics of me and a parrot doing Word of Mouth.
At the launch of Children's Book Week in October, the Newsround press packers met me. Click here to read the giant poem written by 200 children at the launch.
Here's the website of Basho music with news about the Nonsense and Jazz project and here's a sample of the music at an early stage in composition and rehearsal.
The Daily Mail reported me saying that poetry was being frozen out of some schools.
The story originated here in the TES.
Here's the text of the 'voices-play' I wrote that went on at the Rosemary Branch Theatre, Islington at the end of October. It's called 'Hackney Streets'.
My visit to Swindon.
This is the Booktrust page on The Roald Dahl Funny Prize. The Daily Telegraph and the Guardian did reports on the prize. Here's an article about the Roald Dahl prize in the Scotsman. My speech went something like this:
Roald Dahl Funny Prize – Michael Rosen's Speech

This prize came about as a result of a light-bulb moment. I think I was on a train. It must have been a train because that's where I live these days. I was thinking about sitting as a judge for the Guardian Children's Fiction prize and how for each year I did it, the funniest book of the year, got edged out.  I don't know if she'll forgive me (not that it was my fault alone), but that's why Anne Fine didn't win that year. Oh that's let the cat out the bag, these things are supposed to be secret.

Anyway, I approached the Laureate committee, we all approached Booktrust, we then approached (there's a lot of approaching going on here, isn't there?) and the Roald Dahl Estate and – berdoing!!! -that's what the Roald Dahl estate said  – we had a prize, well two prizes in fact and the shortlists were announced in the week of Roald Dahl Day.

Humour is no laughing matter.  This prize is of course a 'cunning plan'. We are deadly serious about trying to get every child reading and enjoying books. So the prizes, the shortlists, the fanfares, the balloons (oh we haven't got balloons, they said the budget was tight) is all about encouraging children to read, families to read together, schools to be filled with laughter instead of SATs (oh that would creep in wouldn't it?) and to reward and encourage authors and illustrators to produce funnier and funnier books.

The judging took place one early morning in a café in Charlotte Street. We sat strangely near to each other in a room with a lot of mirrors. There was Kaye Umansky, cackling louder than a kookaburra. There was the frighteningly thoughtful Chris Riddell. There was Dara O'Briain who Kaye thought was there in order to sign his autograph for her daughter. And there was Sophie Dahl to remind us that the best way to decide if a book is funny is to work out if it's funny or not.

It was painful. It was arduous. It was tortuous (largely thanks to me for working out some cumbersome system or other of canvassing views. What a strange thing to do with views…'canvas' them. Make note: do 'canvassing' on Word of Mouth next week. )  It went on so long, Dara fell asleep and talking of falling, he fell landed on his croissant. Nasty. Kaye went for a jog round the block and came back with several geese. Chris started drawing dragons (they're for sale outside) and Sophie said that we should think about whether the book is funny or not.

We noticed that this year, funny books had several themes: they were dinosaurs, pirates and underpants. So far, no one had a book with all three but that's a challenge for writers and illustrators to take up next year. Captain Diplodocus sails the Jolly Velociraptor through primeval slime, until the dastardly Cutthroat Stegosaurus steals his underpants. I think I'll go in for this prize next year. Can you be a judge and win it? Well, those are next year's rules, OK?

Well, look, thanks to Dara who, you may not know, has a ruthless streak about him, our deliberations were cut short. Ow!  Whenever we dithered, he slashed our dithers to bits. Whenever we procrastinated, he asked us if we knew what procrastination meant. I said it was something to do with whether you go to heaven or not. And from some deep pool of knowing, Dara said, oh no, no, no, no, no, no, no, no, no, no. no….Kaye got the autograph. Chris got some more coffee and Sophie said that we should think about whether the book is funny or not.
Here's an interview with me talking about Pinocchio for Croydon paper.
---
Laureate Log #9
It's always hard to discern patterns and trends, but I fear that we are in a time when libraries are more under threat than they have ever been. In this phase of the laureateship, I've been approached by several local campaigns to support librarians' struggle to keep libraries open. For one of these, on the Wirral, I wrote this in early January:
'Libraries have played an important part in the cultural and democratic life of this country. We talk of the 'republic of letters' meaning that we have created a world in which we share books as equals. This was only possible when books became free, which, thanks to a mix of philanthropy and municipal goodwill, was achieved through the invention and provision of libraries.
Now, more than ever, we need this 'republic of letters'. We live in a time when the main organs of information, entertainment and education (outside of schools) are owned by very few giant multinational corporations. However, within the world of books, there is still more diversity than in any other form of media. In part, this is because of the very process of reading books. Books are portable, durable packages where we can read slowly, toing and froing across the pages at a tempo that suits ourselves. Libraries are the treasure-houses that store these 'packages' and it's here that we can browse for free, to find the books that we want or need to support our lives and interests.
It is vital for the lives of us all that these places are supported, expanded, enriched and diversified. If we let them close, we are in effect consigning huge sections of the population to a world either without books, or a world with only the books that the giant corporations want us to read. This is an appalling prospect and I urge the councillors of the Wirral to fight every attempt to destroy your local library service and I will support any action taken by librarians to defend that service.'
I've come to think that a key to the survival of libraries is to be found in the links that they should have with schools. In many but not all places, this is casual, informal and patchy. If schools really put books at the centre of the curriculum, the local library becomes an essential part of that process and would prove to those who have the power to slash the library system that libraries are an essential part of our lives.
I've been doing poetry performances in Winchester, on the Isle of Wight, Bookmarks Bookshop in London, Seven Stories Museum in Newcastle, Southport, the Little Angel Puppet Theatre and St Albans and the poetry and jazz Nonsense project reached the Queen Elizabeth Hall on the South Bank.  I also had the experience of turning up at a school with my voice gone. I did wonder for a few hours what I'd do with my life if it became permanent!
I've finished making a one-hour programme for BBC Four about helping a school become a book-loving place for everyone. It's called 'Just Read' and it'll be going out sometime in early February. The NHS filmed me along with several celebs performing a poem they commissioned me to write and I introduced a discussion on the French film, 'Le Ballon Rouge' at the London Socialist Film Festival. In the latest run of 'Word of Mouth' for Radio 4, I had the fascinating experience of going to Newbury Park Primary School in east London where they have a language of the month and a child who speaks that language is recorded talking. This goes up on the school website and the whole school gets involved in activities around that language.
---
Laureate Log #8
One of the most inspiring occasions I've been to in this period was the prize-giving of the Sheffield Children's Book Award. The City Hall was packed to the rafters with children from schools all over Sheffield, waiting to see which of the books they had read and voted on had won. It was the twentieth anniversary of the Award and Martin Waddell, the first ever winner, was there along with many of the shortlisted authors, illustrators and their publishers. There were wonderful film sequences of the children talking about the books and then afterwards, hundreds of children queued to get their books signed. Halfway through this, my lightbulb went on again: every locality in the country could do their version of the award, with every school and child getting engaged in choosing which are their best books. It would mean cooperation between libraries, the local education authority, schools, parents, bookshops and the Children's Book Group. Is this possible? What's needed to make it happen? Anything I can do to help?
Meanwhile, I've been doing my usual visits. By the way, they are organised by the amazing Jan and Kate Powling at jan@speakingofbooks.co.uk or, when it's a Children's Laureate event, by the equally amazing Sasha Hoare at Booktrust at Sasha.Hoare@booktrust.org.uk. It was Sasha who set up an incredible launch for Children's Book Week at the London Eye, where we had some 200 children up in the capsules and then writing a huge poem at Southbank Centre in which the Eye talks to the Thames. You can read it on the Booktrust website.
The National Year of Reading held a conference where I read my NYR poem (find the poem on the NYR website). I've begun a scary cooperation with scintillating jazz musicians from the Homemade Orchestra who took my nonsense poems and turned them into a jazz oratorio. We've played Newbury, Guildford and the Queen Elizabeth Hall, Southbank Centre. I've performed in Rye, at the Bath Festival of Children's Literature; did three picture book shows with a wonderful Indian writer, Anushka Ravishankar, in Bexhill, Oxford and the Queen Elizabeth Hall for the Children's Book Show. I've performed my own shows for children in schools or theatres in Dartford, Telford, the Polka Theatre in Wimbledon, the American School in St John's Wood, the Cheltenham Literature Festival, Canterbury and Swindon.
I took part in a seminar at Birkbeck College on social realism in children's literature with Kimberley Reynolds and Julia Bell. I was very pleasantly grilled at 'Connecting Conversations' at the Institute of Psychoanalysis and at SPACE in Brighton. I read at an event for local writers at Stamford Hill Library; spoke on bereavement in Berkshire, read to students at York St John's University.
My yearlong poetry course for teachers at the Centre for Literacy in Primary Education has begun. I took part in a fantastic four days of poetry workshops at the Barbican ('Can I Have a Word?') based on an exhibition of photographs from the Spanish Civil War.
Laureate projects progress with the British Library exhibition (April-June 2009) and conference (April 20 & 21: enrol now!). The first Roald Dahl Funny Prizes were awarded; the schools' performance poetry website – 'Perform-a-poem' – is being designed at Booktrust and the A-Z of Poetry Tour will become a book with Puffin.
A 'play for voices' I wrote about my locality, 'Hackney Streets', was performed at the Rosemary Branch Theatre and my version of 'Pinocchio' is running at the Polka Theatre, Wimbledon. The University of Worcester awarded me an Honorary MA, Birkbeck College made me a Visiting Professor, France made me a Chevalier de l'Ordre des Arts et des Lettres. In between, 'The Wright Stuff' (Five) have had me on regularly to do a 'reading clinic' – advice for parents on their children's reading.
---
My Dad
This is my Dad a few years ago at Margaret Meek Spencer's Birthday.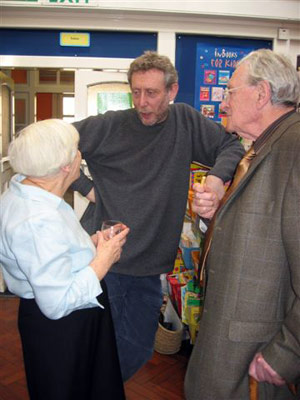 ---
Laureate Log #7 – September 2008
My dear Dad, Harold, died in the summer after a yearlong struggle. I cannot imagine what my work, my mind or my life would have been like without all the many ways he affected me. With my mother Connie, the pair of them introduced me to hundreds of books, poems and plays; they told stories about their lives; spoke languages and savoured words, phrases, sayings, jokes, quotations, slips of the tongue and accents and filled my head as a boy with voices, ideas and expressions. They were both teachers and then teacher-trainers and authors of books about language and literature in schools. I was still talking about such things with my father days before he died. He was endlessly curious, endlessly generous, endlessly encyclopaedic – or as his step-son, Ian, put it at the funeral, 'Harold was a human Google.'
I've been writing plenty of new poems which will appear in a book, provisionally called, 'Michael's Big Book of Bad Things', which in a way, will be a tribute to my father's way of remembering childhood misdemeanours! I've also got straight back into doing visits, so I was up at the Edinburgh International Book Festival, chairing an event about picture books with Polly Dunbar, David Lucas and Catherine Rayner (three of the Big Picture Campaign's 10 Best New Illustrators), followed by an A-Z of Poetry event with Carol Ann Duffy, her musician John Sampson and poet Tom Pow. I've done a couple of local events, first at Hackney Library as part of Team Read, and then at Stratford Circus for the utterly wonderful Newham Bookshop. It was nice to be invited to tell the Society of Authors conference what the Laureateship is all about as well as hear from Alan Gibbons and his great Campaign for the Book. What Alan is highlighting is that under our eyes libraries, library staff and book budgets are being slashed. One point from the conference that really rang a bell with me was when someone said that being able to browse and Google usefully when you're online depends on the experience of having read widely and often in the first place.
Another big leap in the life of one of my Laureate projects: the shortlist for the Roald Dahl Funny Prize has been announced. As you can imagine, the judges, Kaye Umansky, Sophie Dahl, Dara O' Briain, Chris Riddell and myself had plenty of giggles on the way to choosing the books. We noticed that the main humour motifs this year were pirates, dinosaurs and underpants, though we didn't find a book about a crew of pirate dinosaurs looking for their underpants. Perhaps next year. Anyway, the shortlist got into the press as did two crass acts of censorship: a word from a Jacqueline Wilson book and a Carol Ann Duffy poem. Apart from the fact that I think both censorings were unnecessary, I notice that they were done on the say-so of very, very few people. Are we about to enter a phase where all it takes to ban a book is a hostile comment from one person? I can feel a new Puritanism digging in. I feel like Toby Belch talking to Malvolio: 'Dost thou think, because thou art virtuous, there shall be no more cakes and ale?'
Finally, the British Library exhibition on the history of children's poetry is developing nicely. Morag Styles and I are still wading through wonderful old volumes, including Robert Burns' first edition of 'To a Mouse'. Please note the dates of the Poetry and Childhood Conference (20 & 21 April 2009) at the British Library as part of the exhibition, with seminars, lectures and readings by Jackie Kay, Carol Ann Duffy and yours truly. Enrol now! Contact Hannah Drake on hvd21@cam.ac.uk or 01223 767 735.
---
Laureate Log #6 – July 2008
I've put myself about a bit in this period!  I've done shows at the Brighton Festival and on tour in Scotland taking in Edinburgh, Glasgow, Dundee, Aberdeen and Inverness. I met the wonderful Jack Prelutsky, the US's Children's Poet Laureate for a joint show at the American School in Thorpe and contributed to Write Away's conference on non-fiction at the Institute of Education. Then, it was on to the Hay Festival followed by a week of performances for schools at the Barbican with Francesca Beard and a wonderful four-piece Jazz group. I visited Liverpool to do two sessions, one for children (A- Z of poetry tour), the other for teachers and joined in the biggest ever collection of poets for children at the Bethnal Green Museum in London for the forthcoming Oxfam CD of children's poetry. Then it was on to Southampton for their Book Fair, a school near Wellingborough, the Artsmark Award ceremony at London's South Bank, Holland Park Comprehensive, Camden teachers, a conference for the Centre for Literacy in Primary Education, an in-conversation session with Jackie Kay as part of her receiving the CLPE Poetry Award for the best poetry book for children this  year, then on to  a secondary school in Nottingham, the Ledbury Poetry Festival with Jackie Kay and Francesca Beard for an A-Z show, a school in Shrewsbury, a day out in Oxford with the finalists of the Kids' Literature Quiz, a big read-in at Coram's Fields in Camden to celebrate the National Year of Reading, finishing up with the launch of the Summer Reading Challenge at the House of Commons and a conference at Tate Britain on play. In between, it was good to work at, Brooke Six,  a local sixth form college to help the students write, rehearse and perform a poetry show and also at my daughter's primary school to tell ghost stories at their sleepover and work with the children on writing poetry.
I was invited to meet the DCSF Early Years people along with people involved with the National Year of Reading. They suggested ways in which I could support the NYR and the new Talk project they're launching. I repeated what is fast becoming my mantra: why can't the government be as committed to the reading of books as it is to the teaching of reading? Or, put another way: why is learning how to read compulsory but reading books optional? Is this a political, cultural or educational matter – or all three? I also joined in a big meeting at the DCMS, chaired by Andrew Motion, on the 'literature offer' element for what will be the five hours a week of cultural entitlement in schools. Perhaps this is how the reading of books will sneak back on to the curriculum.
I've popped up on Channel 5's 'The Wright Stuff' talking to people who phone-in with questions about their children's reading, I've written some more poems – I think a new book is gestating – and I've been to production meetings with a new picture book I'm doing with Joel Stewart and the Polka Theatre for my version of 'Pinocchio' coming on in November for their Christmas run.
The books for the Roald Dahl Funny Prize are piled up in my office – judgement day is September 1, award ceremony November 13.  That's my holiday reading sorted. The A-Z of poetry tour is rolling on (Edinburgh at the end of August). The Poetry Friendly Classroom page on Booktrust's Children's Laureate pages is there for anyone reading this to contribute to and my longstanding pipe-dream of an interactive schools' poetry YouTube-type site is still possible…
---
In the Media
Here's an interview in the Irish magazine 'Verbal.
This is a clip of me on BBC Breakfast TV from some time ago.
Here are a few thoughts on poetry.
Here's a clip of me from the BBC's 'Daily Politics Show' talking about reading and arguing with Hazel Blears in the studio afterwards.
This is a blog from the 'Guardian' about the famous cutting of the word from Jacqueline Wilson's book.
This is a blog from the Guardian about SATs.
This is a blog from the Guardian that I contribute to concerning Carol Ann Duffy's poem that was removed from the GSCE anthology.
'Give children books, not SATs' from the Independent.
Why we need better arts provision for children – message to the Action For Children's Arts Conference.
Article in the Telegraph about the Roald Dahl Funny Prize
---
Laureate Log #5 – May 2008
Another couple of months busying about: I've worked with London children as part of the Barbican's 'Can I Have a Word?' project. We wrote poems inspired by one of the most intriguing exhibitions I've ever seen. It was called: 'Martian Museum of Terrestrial Art', and it was full of objects, paintings, photos and installations 'collected by Martians' (!) from humans. I've done shows in Luton Library, St Luke's School in Canning Town, heard wonderful poems from primary schools in Camden at their local secondary Haverstock, announced the Big Picture campaign's Ten Best New Illustrators at the Bologna Children's Book Fair before going on to Rome and Naples to work for the British Council. (Interesting, talking for an hour to fifty Italian children who could hardly speak English!) I entertained some four hundred children at Reading Football Club as part of their 'Reading needs Reading' project, another five hundred or so at the Rose Theatre in Richmond and visited the Cobham International School.
In between, I've done some TV – BBC Four are making three programmes about children's literature and I did some filming for that; I've recorded five stories (not mine) for CBeebies and appeared on 'The Wright Stuff', Matthew Wright's morning chat show on Five, where I now have a regular spot offering advice on children's books to people who call the show. One of the most moving calls came from a woman who said that she was 53 and couldn't read – what should she do? On radio, I appeared on Five Live to argue about apostrophes, I finished off five programmes for Radio 4 about the legacy of Iona and Peter Opie in relation to their work of looking at children's play. On Radio 3, I reviewed a new biography of the poet and painter Isaac Rosenberg and carried on with 'Word of Mouth' for Radio 4, which took me to Kingsford Community School in Beckton, East London where they teach compulsory Mandarin to all of Key Stage 3. How interesting to confront a prejudice on my part when I found that I was surprised that children who don't 'look Chinese' could speak a Chinese language!
The Laureate projects are cooking nicely. The Roald Dahl Funny Prize is up and running, so if you think you've read the funniest book published this year by a British writer, give the publisher a nudge to make sure that it gets entered. I think it's great that Roald Dahl's name is attached to this because he was someone who wrote some of the funniest books ever written for children. I'm also chuffed that the bit of my laureateship devoted to being an 'ambassador for fun with books' has come to fruition. The exhibition, conference and performances about the history and practice of poetry for children going on at the British Library next year is developing beautifully, thanks largely to Morag Styles, while a set of performances under the heading of 'A-Z of Poetry Tour' is carrying on round the country – Liverpool, Edinburgh, Dundee and Bath – and more.
Apologies if you know about this, but could I recommend a folder called 'Family Reading Campaign' produced by Read On, the National Reading Campaign, financed by the old DES, and organised by the National Literacy Trust? My only quibble: why isn't such a document backed up with as much force, Ofsted-checking and publicity as the government puts into the Literacy Strategy, SATs and Synthetic Phonics? I feel a speech coming on called 'The Mysterious Politics of Which Literacy Horses the Government Really Backs and Which Ones It Just Pays For!'
---
Greenhill Poems
Here are some poems by 4S at Greenhill Primary School in Sheffield based partly on my poem, 'The Bathroom Fiddler' in 'Mustard, Custard, Grumble Belly and Gravy'
Breakfast time
I'm the breakfast maker
The breakfast shaker
The breakfast creeper
down the stairs.
Breakfast time…here I come!
Reach for the Cornflakes
No, no the Rice Crispies
No, no the Weetabix
Or shall I have Coco Pops?
Uh oh…the Coco Pops are on the floor.
Uh oh…the dog's here.
Uh oh…he's going to gobble them up.
The dog's going crazy now
Running around in circles
Chasing his tail
Licking his lips.
Smash! Splash!
Milk on the floor
Milk on the dog
Milk on me.
On me.
By the Tigers
Bedtime
I'm the bedtime stopper
The bedtime refuser
The dawdler and the dodger!
When my Mum says
'Go to bed'
'Go to bed!'
'GO TO BED!!!!'
I dawdle up the stairs…really slowly
Sit there for a bit and watch TV
through the crack in the door.
'GO TO BED!!!'
I drag my feet into the bathroom
Play with Dad's hair gel
Put my fake spider in the sink
Draw a shaving foam face on the mirror.
'GO TO BED FOR THE VERY LAST TIME NOW!!!'
Finally, I crawl into bed
And play on my DS!
By the Pumas
The Flicker
I'm the frantic flicker
The fiddling flacker
The best flicker in town.
Hold it steady
Aim…
FIRE!
Hearts stop beating as we watch it go
Soaring through the air
Heads up…heads up
It's going to land
Take cover!
Heads down…Heads down.
'Look out…here comes Miss.'
Act normal.
Rush into your seat
Act normal.
Sit up straight
ACT NORMAL!
'Who flicked a bogey at Susan?'
I say nothing.
'Who flicked a bogey at Susan?'
I still say nothing.
But they all point at me..
They all point at me.
They're pointing at me.
At me.
By the Jaguars
---
Writers' Rooms
This is my workroom in the series 'Writers' rooms' that runs in the Guardian. The photo is by the great Eamonn MacCabe.
---
Other Bits
This is a Podcast from the Guardian, when I visited the Hay festival
This is a blog I posted at the Guardian website with some 50 or so comments after it.
Here's a film of a talk I gave at a Liverpool literacy conference.
Me and Tim Rylands.
This is an article called 'My life in travel' in the Independent.
---
Laureate Log #4 – March 2008
Since writing last, I've visited schools and libraries or done theatre shows in Kent, Wiltshire, Peckham, Finchley, Petersfield, Watford, Camden, London's South Bank, Twickenham, Basildon, Greenwich and Cambridge. The NUT in Ealing asked me to do a version of the talk I gave in Wakefield called 'How not to bore the pants off children'. A couple of things struck me: there are some young teachers who weren't helped in their training (or since) to find a way of getting their pupils to enjoy books. A couple of young secondary school teachers asked me, 'How can we get our students to enjoy literature?' Clearly, there is no longer time to answer this question during PGCE and Education degree courses. If anyone knows otherwise, let me know. That said, it was heartening to see some 150 teachers coming to a meeting like this in their spare time. The hunger for a new approach (or is it an old approach?) is there.
My view about this was reinforced by a meeting I had with Jim Rose (he of the Rose report). He was satisfied that he had put into place a structure that gave children what he called 'the alphabetic principle' (ie synthetic phonics), but he appeared to me to be genuinely concerned that there was no equivalent programme in place 'to make books come alive'. Indeed. Isn't that what some of us have been banging on about for the last ten years ? We parted on good terms in absolute agreement on this matter but since then I've heard nothing. The other official meeting I had was with Margaret Hodge, Minister for Culture, Creative Industries & Tourism whose responsibilities also include 'the arts', heritage, architecture, royal parks, museums, galleries, archives, libraries and science. (I like to get these things right!) It was a curious occasion, because it was several weeks before the Government's announcement calling for all schools to give children five hours of 'culture' a week. However, Ms Hodge invited me and the Booktrust people I was with to think about what was to be announced with particular reference to libraries. How could libraries, she asked us, help 'deliver' this 'offer'? I suggested that the Government's own initiatives, Creative Partnerships and Cultural Hubs were good models of how to proceed, weren't they? I thought I detected a certain coolness to this suggestion. If so, then perhaps someone can tell me why. I've chaired several big conferences that brought together many practitioners from these two experiments to get schools working with local cultural organisations and there seems to have been some great work going on. Surely they have each created blueprints of how this could work all over the country?
The moment the Five Hours of Culture a Week story broke, I was asked by several news outlets to comment and it quickly became clear that no one in Government has actually worked out how the over-stuffed official curriculum can be squeezed to deliver the five hours, nor indeed what kind of organisation will oversee it. However, if it does become official, statutory policy, then presumably Ofsted will be required to ensure that schools are really delivering it. And will schools get any extra money to pay for the workshops, visits, cover for teachers and the rest? We shall see.
Meanwhile, there's progress on my Laureateship ideas – perhaps I'll leave the detail of that till my next log when, I hope, I'll be able to report something specific. Meanwhile, the 'A-Z of Poetry Tour' has begun. John Agard, Valerie Bloom and I did a show for some 900 children at the South Bank. There is a one-camera video of this, which I'm hoping might become available at some point. On that matter, I've made what might be the world's first online video book. My poetry collection, 'The Hypnotiser' went out of print so my son has filmed me performing it. You can find it on my website or on YouTube.
---
Despearate Dan in Dundee
I recently toured Dundee and met one of my heroes, Desperate Dan.
---
Odds and Ends
An account of a school visit.
Please don't forget the Poetry Friendly Classroom webpage – and please send your comments in.
A review of a book by George Paizis about an interesting French anti-war poet.
Five minute interview in The Independent.
An interview with me by Bruce Black at the Poetry Foundation.
An article in the Guardian where several of us who help make picture books were interviewed.
News of the release of a wonderful album of performance poetry from Apples and Snakes. Rush out and buy it.
---
The Ball
View all the poems from The Hypnotiser
---
Laureate Diary 3
I wrote a poem! In the midst of the visits to schools, the writing of introductions to books and making radio programmes, I actually found time to think through an idea long enough and hard enough for it to turn into a poem.  I thought I had forgotten how to do it. (Not really!) As it happens, I wrote it for Scottish Booktrust as a taster for my Scotland tour in May. Interestingly, it begins: 'I'm lost, I'm lost…'!
The National Year of Reading has begun and I'm very interested to see if this is going to be something that seriously improves the way in which schools help to create people who read books. As yet, I don't see a match between the effort and energy going into the phonics programme and what needs to be done to make schools into book-loving places. I had the interesting experience of sitting in the TV studio of the 'Daily Politics Show' and arguing with Hazel Blears and a spokesman from the Tory Party about the need for school librarians and home-school reading liaison. Needless to say, the moment we started talking about money for this, it was punted into touch. I find it ironic that Monteagle Primary School, which featured on the recent 'Lost for Words' series on Channel 4, has a four day a week librarian and its inventive ways of helping parents enjoy books with their children was superb: the reception staff grab the new parents and sit down with them and share the reading of 'real' books with them. So, instead of simply saying, 'reading books is good', they do something hands-on and practical. Love it.
Ofsted have produced a report on the teaching of poetry, I met its author Phil Jarrett and scurried around a few radio and TV shows responding to the report itself. He makes several points arguing in particular that there isn't a sufficient variety of poetry reading going on in schools. My own view of this is that if you nail schools to SATs and Literacy Hours, you create a school environment in which teachers run as hard as they can to fulfil the requirements of these. What happens with poetry is that many teachers, quite legitimately, feel that they've 'done' poetry if they do what the Literacy Strategy says they should. But on its own, this is meagre stuff. Poetry offers schools the possibility of uniting people through performance, getting to the heart of personal emotions with private, intimate poems and taking children to the point at which they discover they can manipulate language itself. The Children's Poetry Bookshelf has expressed extreme disquiet over the fact that publishers have become very wary of bringing out new collections of poetry for children. I can see why: as schools fulfil the minimum poetry 'norms', these can be satisfied with one school anthology. At this rate, we won't see a new generation of poets writing about their world, in the way that I was able to.
I've carried on with my visits: I've been to Nuneaton, Nottingham, Wakefield, Apples and Snakes anniversary celebrations and Crouch End in London. This was a mix of work in a library, secondary school, university, London poetry night and an NUT branch meeting called 'How not to bore the pants off children'. My visit to Polesworth School near Nuneaton was an absolute delight. I don't think I've ever been to an ordinary comprehensive where the atmosphere was so positive, the work so inspiring. The immediate reason for my visit was to open a language block at the school and to be part of the school saying goodbye to someone I went to school with and who I once worked with during the school holidays in a building supplies yard!
---
Children's Poetry Bookshelf Competition
This is a day with the winners of the Children's Poetry Bookshelf poetry competition with poets Valerie Bloom and Wes Magee.
(You can view all the pictures online at Children's Poetry Bookshelf )
---
Orwell Lecture
This is the George Orwell Lecture that I delivered on December 6 2007 at Birkbeck, University of London.
---
Laureate Diary 2
Here's my Laureate Diary which also appears in Books for Keeps:
Since I wrote last, I've visited schools and festivals and done performances in Chingford (London), Chesterfield, the Italian Institute in London, Guildford, Belfast, Sheffield, Bedford, Croydon, Kings Lynn, the Tricycle and Soho Theatres and Bookmarks Bookshop in London and a Stop the War benefit in Hackney. I've done three days of poetry workshops as part of the 'Can I Have A Word' project at the Barbican, given the Patrick Hardy Lecture for the Children's Book Circle (to be published in the 'School Librarian' and on www.michaelrosen.co.uk), chaired the Arts Council conference on the 'Cultural Hubs' project, taken part in a discussion about children's literature organised by PEN, helped judge the Children's Poetry Bookshelf Competition and presented the award for the Best TV writer for children's programmes at this year's Children's BAFTA ceremony.
We've been pushing on with my eight Laureateship ideas. There will definitely be an exhibition at the British Library on the history of Children's Poetry and I'm working with Morag Styles on that. We're working on the idea that there'll be a conference and performances running alongside the exhibition and a conference – scheduled date: first part of 2009. The A-Z of Poetry tour will kick off with a show at the Queen Elizabeth Hall on 14 February as part of the Imagine Children's Literature Festival. The Patrick Hardy Lecture was very much in support of Booktrust's 'Big Picture' Campaign and we definitely have progress on putting together some kind of 'Funny Prize' for the funniest children's book of the year. The interactive webpage for teachers to talk to each other about poetry-friendly classrooms is proceeding apace. I've done some filming for that and I'm hoping that that'll be up and running by January 2008. The other projects are proving to be a bit harder to get going. I'm also hoping that off the back of the Patrick Hardy Lecture we can get together some kind of bank of ideas on how schools can help create book-loving environments both in school and in homes. I'm working with Booktrust on this. My argument in the lecture was that the Government seem particularly keen and thorough to stipulate exactly what should go on in Key Stage 1 classrooms in terms of what they think is the best method to teach reading – Synthetic Phonics – but do not seem equally keen and thorough to stipulate a series of specific ways of encouraging the circulation and reading of 'real' books. Why not?
I've carried on doing my Radio work which has meant finishing the series on the past, present and future of European languages for Radio 3 ('Lingua Franca'), presenting 'Word of Mouth' for Radio 4, including a fun programme about children's playground songs and rhymes with Dan Jones and a special on the languages crisis in Belgium. Also coming up is a programme about the 200th anniversary of 'Jack in the Beanstalk' featuring amongst others, Brian Alderson and another on humour under totalitarianism.
As you can see, no day is the same as the next, so my days end with me looking in my diary to see what I've got to do tomorrow. And, yes, I have once had the nightmare experience of not opening the diary till the morning only to realise that I should not have been sitting reading my diary. I should have standing in front of two hundred children doing 'Chocolate Cake' ! A flurry of phone calls and some pathetic grovelling managed to shift the booking to two days later. By the time I arrived, I was forgiven. Two pleas: may I not be so inefficient again. If I am, may the victims be as gracious as the teachers at St Mary's, Chingford.
---
My Patch
People have sometimes asked me about Hackney and Dalston where I live. Here's a website that tells the story of some things going on nearby with one or two tiny contributions from me added to the 'Comments'.
---
Me and the Oxford Reading Tree – the truth at last
I've often been asked about me and the Oxford Reading Tree. I've been rumbled…
---
'Fighters for Life' A Political Book
Bookmarks Bookshop have published a book of my poems selected from the political poems I've written over the last few years. All proceeds will go to helping the Bookshop stay solvent. Here's how they've billed it.
"The writer, poet, broadcaster Michael Rosen has been gaining wide recognition of late with his recent appointment as children's laureate. This new collection of Michael's poetry draws together a selection of his most explicitly political work over the past three decades. It includes 'Who Killed Blair Peach?' from 1980, marking the death of the Anti Nazi League protester and London school teacher at the hands of the Special Patrol Group. Other highlights include the extraordinary 'Songs For The Dead', a three part poem composed in the wake of the 7 July 2005 London bombings. The poems in Fighters For Life have been specially selected by Michael and all proceeds from the book go to the Friends of Bookmarks appeal. They are all introduced with a short essay from Michael outlining some ideas as to what poetry is about and what it can achieve politically."
---
Laureate's Diary
I've been asked to write a laureate's diary for Booktrust and for the Books for Keeps magazine. Here's page 1:
First thing to say, is that I'm enjoying myself. I'm only mentioning that because many kind people have been worried that I might be drowning under the pile of work involved. No drowning, no need to worry!
People outside the book world ask me, what does being the Laureate mean? What do you actually do? What does a Laureate's day look like?
The first thing I did was come up with some ideas and the second thing I did was come up with some more. Ideas are very cheap. For me, they're usually the cost of a bus journey, with its free moments of looking out the window and thinking. (And my bus journeys are so cheap, they are in fact free with my over-60s Freedom Pass, thanks Ken.)
So, this is what I've thought:
1. Wouldn't it be great for children and poets to have an interactive youtube-like poetry website?
2.  We could have an interactive webpage for teachers to talk to each other about making poetry-friendly classrooms.
3. There could be Children's Literature Trails all over the country.
4. It would be good to have a children's poetry roadshow: 'The A-Z of poetry, Agard to Zephaniah'.
5. There could be an exhibition on the history of children's poetry at the British Library tied in with:
6. …a conference on the history of children's poetry.
7.  The  Booktrust's 'The Big Picture' campaign for picture books is something I really support – and will.
8.  Why isn't there a Funny Prize for the funniest children's book of the year?
Now, each of these ideas needs plans and meetings, so we've sat in twos and threes at various times looking out over the river at the South Bank, munching curry near Oxford Circus, looking at the roofs from the fifth floor of  Waterstones in Piccadilly, or drinking coffee in the British Library café. We've made progress on all eight ideas. Funding is a problem for the interactive website but the poetry-friendly webpage is on its way. A document is being written for the Trails. Hay Festival is putting its weight behind the Poetry Roadshow. The British Library have said yes to the exhibition, the conference is less certain at the moment. The Big Picture has been launched and Booktrust are pressing ahead with The Funny Prize.
Meanwhile, I've been interviewed many, many times. Interesting, probing questions about poetry in education, the language and literacy curriculum, picture books, the schools I went to, my parents, my children, my trousers and much, much more.
Photographers have stuck me up against walls, looking round trees, peeping over the top of books and leaning dangerously over balconies. When I read the articles back to myself, I just occasionally find things that I think perhaps I didn't say. I'm not sure I told the 'Times' that I was in favour of 'chaos' – 'freedom', yes; 'chaos', I don't think so,  but maybe it came out like that… And I fear I misled my friend Nick Tucker when I reported a conversation about not having an office to work in. I think my tenses got mixed up and meant to say, 'I hadn't had an office to work in'! Sorry Nick, not your fault! I find myself wondering what it would feel like to be a politician: 'No I didn't say, "We should abolish it", I said, "We should polish it…"'
Then there's been my first Laureate Event, which was a talk I gave called 'What is a Bong Tree?' This was about the kinds of questions we ask children to answer about poems. The answer to the question, 'What is a Bong Tree?' comes at the end of the talk, so you can scroll straight to there if that's the bit you really want to know. Who knows, it might come up on 'University Challenge'. I'm not sure that my answer will be of much help, though.
It was great to help launch The Big Picture campaign to promote and champion picture books at the Early Book Awards. We have a serious task of saving the picture book from being squeezed out of the market by schools and parents rushing to buy phonics books and booklets full of 'English' exercises. I think that this is going to be the big challenge facing children's books over the next ten years.
In the meantime, I've had a great time doing my usual things, helping to make 'Word of Mouth' for Radio 4, visiting schools and book festivals and running workshops. I've had a fantastic time at Brook Sixth Form in Hackney where I live. I wrote a kind of 'Under Milk Wood' 'voice-play' about Hackney, and the students rehearsed and performed it to  a public audience at a local converted chapel. The 20 or so performers stood round the edge and the audience sat or stood in the middle. I'll put the text of the play up on my website.
Coming up I've got a whole raft of bookings and appearances which you can check out on the Booktrust website or on mine. And you might see me pop up on Matthew Wright's morning show on Channel Five talking about…yes, books for children.
---
Give Us A Hand – Puppet Show at the Little Angel Theatre
Starting on September 14 at the Little Angel Theatre in Islington, London is a show that I helped devise. Here's how it's being billed in LondonTown events guide.
Please come, I think you'll have a terrific time.
---
Michael Rosens
Just in case people confuse me with any other Michael Rosens (and there are many) I've posted on to the Wikipedia entry under 'disambiguation' a list of other Michael Rosens.
The comedian, Dave Gorman, once did a great show where he chased up all the Dave Gormans he could find. Looking down the list of Michael Rosens I feel tempted to do the same.
---
Some New titles
Just out is 'Shoo!' which is a follow-up to 'Snore' and 'Oww!'. Soon, Harper Collins are going to put all three together along with some toy animals all together in a pack.
Standby for…Bear Hunt – the Board Game !!! Yes, travel round a board watching out for deep cold rivers, dark gloomy forests and the like…(from Walker)
Coming out very soon is 'Bear in the Cave' which is a sort of follow-up to 'We're Going on a Bear Hunt' and there's a CD of me reading it.
Also in the pipeline is the paperback of 'Mustard, Custard, Grumble Belly and Custard' and in production is a picture book I'm doing with Nick Sharratt.
---
University Challenge
A kind contributor to the BBC's 'Word of Mouth' message board, told me that I was a question on University Challenge! The question seems to have been: 'Who wrote 'Don't Put Mustard in the Custard' and…' Then, Braithwaite from Worcester College, Oxford buzzed. Paxo went on: '…and is the present Children's Laureate?'  I think that's one of the few questions on University Challenge I might have been able to answer.
---
Hackney's Poet Laureate
As if one laureateship isn't enough, I've been made into the London Borough of Hackney's one-month-long Poet Laureate, doing workshops, chairing some events and writing a specially commissioned piece which will be performed on September 26 all as part of the Write to Ignite Festival.
---
Best Laureate Gag
The best joke I've heard so for came from someone who was just about to come out of her house to interview me. Her young son asked her where she was going. She said, 'I'm going to see Michael Rosen.' 'Why?' 'Because he's the new Children's Laureate,' she said. 'Oh, he'll have to have a new lorry, then, won't he?'
---
Laureate Plans
I'm progressing with each of the laureate ideas. 'Progress' means holding meetings and connecting up with people who are either already doing something in these areas or would like to. These areas are:
1. An interactive poetry-performance website for schools.
2. An interactive webpage for teachers to talk about making poetry-friendly classrooms, which you will soon be able to find at Booktrusted.
3. Children's Literature trails around the country.
4. Supporting Booktrust's 'The Big Picture' campaign for picture books.
5. A children's poetry roadshow, provisionally titled 'The A-Z of poetry, Agard to Zephaniah'.
6. An exhibition on the history of children's poetry at the British Library
7. A conference on the history of children's poetry at the British Library
---
Children's Laureate
I'm honoured and delighted to have been made Children's Laureate. I'm very busy at the moment, so what I'm going to do here is give you as many links as I can to the interviews and broadcasts that I've done.
But first, here's the acceptance speech I gave at the award ceremony:
Children's Laureate Acceptance
I wouldn't be standing here if it hadn't been for the work, help and kindness of many, many other people. This will be a constant reminder to me that whatever work I get into as the Children's Laureate I should cooperate with all the other people and organisations pushing in the direction of making reading a delight and inspiration for young people. Part of the great achievement of Quentin, Anne, Michael and Jacqueline is that they've created paths and networks throughout the world of books for children which the laureates coming after them can use.
A special word for my immediate predecessor: Jacqueline is someone who writes books that fascinate millions and millions of readers. Her appearances make waves. She has created characters, scenes, moments and plots that have taken the thrill of reading to children of every kind. To pursue her aims of getting everyone to enjoy reading, all she needs to do is go on writing. The fact that she spent time and energy doing so much more than that has benefited everyone involved in writing, publishing, distributing and of course reading children's books.
It's a fantastic privilege to be following her and the previous laureates who I hasten to add haven't hung up their laurel crowns in the shed but go on and on drawing, writing, talking, visiting and helping new projects like the wonderful Seven Stories Museum in Newcastle or the forthcoming Museum of Illustration in London.
Another privilege I have to mention is that I was brought up by two special people. It's that moment when one of my children say, or the older sons and step-daughters said in the past, 'Read to me, Dad,' that I have felt most acutely how it was the hours and hours my parents spent sharing stories, poems and plays with my brother and me that got me into this whole malarkey.  They were both teachers and a two-way street ran between our bedroom and their classrooms. My old copy of 'Peter Rabbit' has the stamp of Harvey Road Primary School on the endpapers, not because my mother nicked it from the Harvey Road store cupboard but because she filched it off my shelf and took it into school. It was her who took me to see the folklorist Alan Lomax take us on a trip across the USA with the songs of working people in Joan Littlewood's stage-show 'The Big Rock Candy Mountain'. She took me to the world of British Columbia with the stories of Ernest Thompson Seton, to Latin America with a book called 'Miskito Boy' and to the fight against the nobility in Geoffrey Trease's 'Bows Against the Barons'. And it was also her who, in the midst of her daily work in a primary school classroom, started to write and present poetry programmes for BBC Schools Radio. And it was me who used to look over her shoulder and wonder if I could have a go at writing this poetry stuff.
It was my father who pumped up the tilly lamp one night in a tent on a campsite on the North Yorkshire Coast, called us all in, sat us down, opened a book and began:
My father's family name being Pirrip, and my Christian name Philip, my infant tongue could make of both names nothing longer or more explicit than Pip. So, I called myself Pip, and came to be called Pip.
And went on night after night until it was finished.
It was the pair of them kneeling on the floor alongside that wonderful teacher and anthologist Geoffrey Summerfield as he laid out on the carpet of our front room hundreds and hundreds of poems, proverbs, songs, litanies and jokes from all over the world for what would become the great 'Voices' anthologies that helped me realise that I really could do this poetry stuff.
It was my brother in our bedroom at night waving his arms and doing all the funny voices of Geoffrey Willans' subversive 'Down With Skool'; the whole family in tears of laughter watching Peter Ustinov or us going to see my father's productions of school plays that helped me make the connection between writing and performance.
And it was two women formed in that 1940s and 50s intellectual tradition that loved and championed serious literature for children who first found a space for me in Schools Radio and Children's books: Joan Griffiths and Pam Royds.
I remember their work and their commitment to new and old, popular, high-quality multi-cultural children's literature when I look at where we are now.
This historical moment for us in our work is at one and the same time inspiring and difficult. Two facts: the sales of both children's picture books and original single-authored collections of poetry for children are dropping fast.
Why should this be? I suggest that the root cause is the same: many – not all – primary schools feel that they are no longer able to make reading a matter of free, wide-ranging exploration. Instead, reading in many but not all schools starts off by being something that has to be done quite explicitly without the use of books, followed by being something that is done when you read a reading book not a book, followed by being that thing you do when a teacher has some questions to ask you about what you have just read.
I think there are many consequences. Here's one tiny indicator: the spinners in the corners of newsagents used to be full of Ladybird books and tie-ins from movies. They are now full of spelling, punctuation and grammar drills.
I hope in my time as laureate to go on doing what I've been doing for thirty years: going into schools, libraries and theatres to share with children what I've been writing; working with children helping them to write; meeting teachers on courses to talk about ways of writing and ways of enjoying reading poetry; teaching children's literature in universities.
I would like to look at how the reading of poetry can be saved from the vice-like grip of the literacy strategy. Please let's remember: poetry can take us to places of our deepest misery, our greatest joy, to the exceedingly silly, to the foot-tapping heart-stopping wonder, to moments of unexplained melancholy. It can make the familiar unfamiliar and the unfamiliar familiar. It can be chanted, sung, yelled, whispered, read quietly to yourself, mimed, illustrated, danced to, filmed or accompanied by sounds that charm the ear. If you don't believe me, come and see hundreds of London children working with squads of poets year after year in the Barbican Education's 'Can I Have A Word?' project.
I'm hoping to work with all the agencies that provide live poetry experiences for children and perhaps add to them: so, for example, from the head of my son Joe comes the idea of using the technology of youTube to create a website where poets and children in schools could share their poetry performances; to work with the Book Trust to create a page on their website where we can all contribute ideas on how to make poetry-friendly classrooms free of closed-ended questions about similes, and why the effects created by the poet are effective; to get some kind of show on the road round the country packed full of poets. Why not The Poetry A-Z Show, from Agard to Zephaniah?
I'm hoping that I can convince the British Library and other libraries round the country to put on exhibitions that celebrate the fantastic history and present-day diversity we have in our books of poetry for children. The BL, after all, has in its possession a unique gem: the world's only complete copy of what is the world's first collection of nursery rhymes.
I have a provisional slogan for all this: 'Diverse verse for all'.
Again: the picture book is a unique, intricate and massively various art form. It offers families and classrooms a space in which ideas and emotions can be pored over, questioned, discussed and felt. Picture books are the fuse that lights our awareness that reading is full of intense pleasures. If schools aren't the places where a huge range of these small works of art are to be discovered, many children will never find their way to this pleasure. With this in mind, I'm looking forward to working closely with the Book Trust's initiative 'The Big Picture'.
On a broader canvas, I'm hoping to kick off something which I'm provisionally calling: 'Children's Literature Trails'. Hans Christian Andersen came near to where I live in Hackney to have a row with the woman who first translated his tales into English. Did he get what was owing to him for 'The Tinder Box'? Down the road Anna Laetitia Barbauld fought against slavery and wrote one of the first reading books for very young children for her own son whilst Anna Sewell grew up in my street and nearby before moving back to the county of her birth, Norfolk where she would write 'Black Beauty'. Did Anna Sewell read Anna Barbauld?
Every area has its connection with books and writers for children. I'm hoping to work with the Book Trust, Tourist Boards, libraries, education authorities and anyone else interested in coming up with some lively materials that will give families and schools places to visit all over the country, books and poems to read and fun activities to get involved in.
In just a moment, I have an important announcement to make, but before I do so, can I say, that the next two years will involve all kinds of sacrifices and extra work from one person I haven't mentioned: my wife Emma. I'm hoping that there'll be some occasions when our two children will be able to have some fun on laureate days too. Come to think of it, if they're not enjoying themselves then there's a good chance that others won't be either. I owe them and my older ones a great deal for the way in which they've given me motivation, a first audience, devastating criticism and – it must be said – ideas.
It's also my job today to make an announcement:
The Department for Education and Skills (DfES) is funding a new national programme called Booked Up aimed at encouraging Year 7 children to read for pleasure.
Every 11 year old in England in Autumn 2007 will be able to choose their own free book from a list sent to their school. The scheme will also provide an accompanying website, children's magazine and a range of add-on activities. The books will be delivered to schools in partnership with distributors Red House. If you want to know more, please talk to Katherine Solomon at the Book Trust.
Meanwhile, the DfES is also supporting the expansion of the current Booktime programme for every reception child in England, giving children the gift of a book pack shortly after they start school with a guidance booklet for parents and carers on shared reading.
The book for this year is 'Funnybones', by Allan and Janet Ahlberg, published by Puffin.
I'm more than happy to support the handing out of good books for free.
Thank you for listening.
---
Some Links
A short interview with the BBC.
The write-up in Guardian Books.
A piece on British Satellite News.
A longer piece by the Guardian.
(Photograph copyright Graham Turner)
A piece by the BBC's Newsround.
A longer article by Newsround.
Comments on the announcement on Word of Mouth's message board.
The Guardian's The Blog disscusses my appointment.
---
New Books
Three new books to tell you about:
The two heavyweight, fully illustrated books I did on Dickens and Shakespeare for Walker Books, have been completely revamped and changed. They are now called:
What's So Special About Shakespeare?
What's So Special About Dickens?
They are both published as cheap black and white paperbacks with cartoons, speech bubbles and a very accessible look.
The other book that's out is my Selected Poems from Penguin. It includes poems from the three prose poetry books I did with them, along with some poems from the children's books, and some new ones. I've edited it so that it follows a sequence in time from my early childhood up till now, so in a way it's a chronologically ordered autobiography in prose poem form.
---
Stories, schools, SATs
I've said this elsewhere but having children going through the primary school system stirs up things all over again. There is a basic misunderstanding or deliberate misconstruing of the purpose and importance of stories by those who have designed the primary school curriculum and the SATs tests. The authorities demand that teachers ask children to do work on retell stories stressing the importance of getting the sequence of the 'main events' in the right order. This exactly reflects the kinds of questions asked on the SATs papers that focus almost entirely on the sequence of events in a story, the apparent logic of why this or that happens and a general obsession with observable empirical facts in a story.
I suggest that this completely misunderstands why and how stories matter to us. Stories set up situations, scenes, characters and moments that play with our emotions. This play of emotions involves an ebb and flow of feeling on our part. We express or feel a complex set of emotions towards, against, for and with these situations, scenes, characters and moments. This is how literature works. If we don't have these feelings, the story, poem or play won't matter. It won't work for us.
I suggest that what schools should be doing with stories, poems and plays is encourage children to explore this set of feelings; to enquire how it is that authors help create these; how it is that we 'conspire' with authors to help them. This involves a completely different set of activities from the ones presently on offer in school. It requires that teachers are not forced to ask questions of children that they, the teachers, already know the answers to. Instead, the only questions they might ask are the ones that they don't know answers to: does this book remind you of anything you've ever read, seen, heard, felt before? How? Why? If you could ask any of the characters in the book and/or the author some questions, what would you ask? Can anyone in the class have a go at answering these questions? If one of the characters in the book had to tell someone what was going on in a given scene or moment what would they say? How would you or another character respond?
Questions such as these encourage children to engage with this free flow of feeling  that I've described. Questions addressed to the author can be followed up in a more factual way using reference books and the internet. There's no need for the teacher to be the sole authority on the matter.
Further, books and stories are ideal for other activities within the expressive arts: performance, art, music, pottery, dance, mime, film, photography. The use of these is much more in spirit and in tune with what stories are about then this nonsense about recreating stories in the right order. If that's all stories were they would be no different from factual reports or accounts of science experiments.
---
A Talk from 2005:  'Are Books for Children Worth Reading?'
Apologies, but this is the talk I gave for my inaugural lecture at Middlesex University when they made me a Visiting Professor. Parts of it were published in 'Books for Keeps', so I was laying off putting it on here. Anyway, here it is in full apart from the stories I read from, as they're under copyright.
---
Surfing Results…
I've been doing a bit of surfing and here are some sites that might be of interest…
Here's a poem I wrote for the project that hopes to build a museum of children's books in Oxford. It's meant to be a poem of clues. You have to guess what children's books I'm talking about…
---
Lingua Franca – My Radio Series about European Languages
If you would like to listen to the programmes I did for Radio 3 about the roots of European languages, you should be able to find them here. Scroll back to March 19, March 20, March 21 and March 22  2007 and you should be able to listen to them.
---
Revamp
Regular visitors here will see that the website has had a bit of a revamp thanks to the site's great engineer, Mark. I've had to get rid of the Chatroom. Too many people were posting up stuff they wanted to sell and obscene material. So, if you want to get in touch with me, there's the email address at the top of the site.
Other things to look out for are the index of all the old stories from previous posts and the pages that you can click on across the top have been simplified. If there's anything you think I should include or have missed, do let me know.
---
Look Away Now All Those Of Weak Disposition
I was doing a talk to science teachers when I happened to mention that it's my intention to leave my body to London medical schools. The Times Educational Supplement then cooked up the idea of writing up my talk accompanied by a photo of me posing as if I was about to be dissected. So here I am at the Old Operating Theatre Museum in London, which as it happens is a fascinating little museum on the history of medicine.
Thanks to Neil Turner for allowing me to show the pictures here.
Thanks to Neil Turner for allowing me to show the pictures here.
All photographs © TES/Neil Turner
---
Word of Mouth
The series ended in January with the winners of the competition to find words for things we don't already have a word for. If you get me! So, for example we don't have a word for what happens when you put your jumper on over a shirt and the shirt sleeve disappears up your arm. Listener Kathryn Bellchamber wrote:
When my daughter was young she invented a word for when you put your coat on and the sleeves of your jumper  get caught up inside the sleeves of your coat… "flaggered up." I'm not sure if there is already a word for this action, but our family has always used my daughter's phrase.
We don't have an exact word for when you swing back on your chair. Kathy Desmond said it should be called 'kweedling'. 'Don't kweedle, dear! It ruins the floor!'
We don't have a word for when you try to put on a pair of tights and you end up hopping around trying to get your foot in the leg of the tights. (I did once play the 'Servant' in a production of  'Romeo and Juliet', don't you know!). Listener Jane Murray suggested 'nolly-nolly' for that as in: 'I was trying to put my tights on but I got in a nolly-nolly.'
John Ramsay said that someone who preaches protection of the environment but who nevertheless drives everywhere and flies off on exotic holidays several times a year is an 'eco-crite'.
Alison O'Neill said that when you're hungry and a bun – and only a bun – is what will satisfy you, should be known as 'bungry'. 'Oooh I was really bungry and nipped into the bakers on the corner.'
Brian Clover wrote:
MEDIOCRACY: a perverse system of authority whereby power is vested in those who are less competent than the people they rule. This could apply to national government or, say, a broadcasting organisation. Although you may think it is simply a synonym for 'management'.
There were hundreds more. Wonderful stuff. New series starts in April.
---
Eddie
Eddie, my son, died in 1999 and we've set up a stone for him in Highgate Cemetery and his ashes are underneath it. It has his full name, Eddie Steele Rosen, his dates: 1980-1999 and on the back a quote from a poem my father, Harold, wrote for the funeral: 'Larger than life'. If you want to visit it, drop me an email at the address at the top of this site and I'll tell you where it is.
---
Little Angel Marionette Theatre
I've just spent a fantastic four days working with the team from the Little Angel on a play that celebrates the theatre's fifty years anniversary. It is in many ways a tribute to the theatre's founder, John Wright. The play is funded by Heritage Lottery money and will be shown (entrance free) to some eight thousand children in venues all round London and the South-east. We planned out the play in an extraordinary little dive, next to West Hampstead tube station. It was once an old ticket office, but is now a 'creative work space' run by an outfit called 'Metal', which I believe is itself run by Jude Kelly, who used to be with the Yorkshire Playhouse and is now heading up the cultural side of the Olympics.
Interesting place to plan and plot out a theatre production! Every two minutes a train pulls up outside the window and every ten minutes or so a fast train from or to Marylebone roars past about four feet away from where you're working! Anyway, never mind that, one of the puppeteers working on the project is the great Ronnie Le Drew.  Has the name rung a bell? No, not Ronnie Drew from the Irish folk band, The Dubliners. Altogether different bloke. Ronnie Le Drew for many years played Zippy in 'Rainbow'. Yes, Zippy! I can't think how long it is I've been doing incredibly bad take-offs of Zippy, especially one where I act out Zippy getting his zip done up and then I end up spending four days working with him! Well, not exactly Zippy himself, but the voice and hand behind Zippy.
Ronnie is a great guy and to watch him moving these marionettes was an honour. He can make them look as if they're thinking, Stunning. Anyway, the show goes into proper rehearsal in May and will be in the theatres in June. I haven't exactly written it. It was a collaboration between all the puppeteers and several other Little Angel people and myself. One gag I was quite pleased with is when Ronnie, as himself, turns to a boy puppet and says, 'What do you think of the show?' and the puppet says, 'No, I don't like it very much. I don't like puppets.' A puppet saying that he doesn't like puppets. I love it.
---
Some New Interviews and Videos
Here's one of those interviews where they ask you things like 'Marmite or Marmalade?' They seem to have found a photo of me from 43 BC.
This is an interview I did for the poet Ian McMillan's Writing Lab for Radio 3 and the Open University. It's my thoughts on writing poetry.
---
Forthcoming books etc.
Walkers are doing a revamp on my Dickens and Shakespeare books. They're coming out as black and white paperbacks with cartoons and extra gags.
Collins are bringing out a sequel to Snore and Oww!. It's called Shoo! and I've seen the colour proofs. Looking great. Terrific work from the artist, Jonathan Langley.
Penguin are bringing out Selected Poems based mostly on the three books of prose poems I did with them, plus some re-written poems from the children's collections plus some new ones.
A book called Bear's Day Out plus CD is coming out with Bloomsbury.
I'm making two DVD's of me reading my poems. They'll be quite simple readings with me and a few books. They're being made by my son Joe and his company The Picture Press, and will be distributed by TTN.
---
Forthcoming Radio
I'm writing and presenting a 12 part series on European languages called Lingua Franca for Radio 3. It'll be in three sections of four, the first being on the origins of European languages, the second four being on borderlands and extinctions and the third four being on the future. I've started doing the interviewing and it's absolutely fascinating. Incredible stuff. Do you know why Romania ended up speaking a romance language? Because south Italian farmers and peasants migrated there. It wasn't because of Roman conquest.
I'll be making a Radio 4 programme about the two hundred year anniversary of Jack and the Beanstalk. We recorded some interviews at the production in Richmond.
I'll be making a Radio 4 programme about Wilfred Scawen Blunt an upper class eccentric poet, adventurer and lover, who wrote love poetry and anti-British Empire tracts including one that was a 'secret' diary of the British occupation of Egypt – exactly one hundred years ago.
And lovely Word of Mouth will be back in April and again in August.
---
Handy Biog For Anyone to Use
(As written several times over the last few weeks for various conference organisers!)
Michael Rosen was born in Harrow, Middlesex in 1946 and was brought up in north-west London in a family where both his parents were teachers and then went on to become academics. He was educated in state schools in Pinner, Harrow Weald and Watford, before starting on studying to be a doctor. That didn't work out and he studied English Literature and Language at Wadham College, Oxford. While at university he had a play, 'Backbone', performed at the Royal Court Theatre in London.
He then went to work at the BBC as a trainee director and producer, whilst writing poems and stories, some of which were broadcast on BBC Schools Radio. These appeared in his first book for children, 'Mind Your Own Business', which was published in 1974.
Since this time, Michael's life has been taken up with a mixture of broadcasting, TV work, writing, lecturing, teaching, running workshops and performing his one-man show (a hilarious mix of stand-up comedy, story-telling and poetry) in schools, libraries and theatres all over the country.  Some of his best known books are 'We're Going On A Bear Hunt' with Helen Oxenbury (an adaptation of an American Summer Camp song); 'Don't Put Mustard in the Custard' with Quentin Blake (poetry); 'Quick Let's Get Out of Here' with Quentin Blake (poetry); 'Sad Book' with Quentin Blake (a picture book); 'Carrying the Elephant' (prose poems). He is the regular presenter of BBC Radio 4's 'Word of Mouth' and appears regularly on arts programmes on television including presenting 'Michael Rosen's Treasury of Children's Literature' for Channel Five. He has been awarded the Eleanor Farjeon Award for outstanding contribution to children's literature and he won a Sony Gold Award for his series 'On Saying Goodbye' for BBC Radio 4.  In August 2006 he was the guest on BBC Radio 4's  'Desert Island Discs' and he is a Fellow of the English Association, a Fellow of the Royal Society of Literature and has a M.A. and a Ph.D. in children's literature.
He lives with his family in Dalston in London.
---
It's Not YouTube but…
Now here are some things I should have put up here ages ago but didn't because…well, I didn't know that they were available. Anyway, it's three sites that have me in walking-talking reality.
This one is called 'History Lesson' and it's part of an evening of performance poetry that we put on at the Bloomsbury Theatre, London on the eve of the War in Iraq. It comes from a DVD that's available from the website, 57 Productions.
---
Some Recent Bits and Pieces Featuring MR
1. This is a fun write-up in the Guardian of a nice evening at the Institut Francais in London.
And here is a photo with children from a school in Tower Hamlets who came to the Institut that night.
2. This is a short (very short) interview about green matters also for the Guardian.
---
The Rosen Room (What?????!!!!!!)
I was at a school near Gatwick airport and, yes, they've got a Rosen Room. If you don't believe me, here are some pics of it with Rosen in it:
On the way there, I wrote a poem. I was looking at the trees by the side of the track and as it's Autumn, the leaves have fallen and in their place the branches are full of plastic bags…
The bags are ripe
On the Plastic Bag Tree,
Bags as far
As the eye can see.
Apples and pears, peaches and plums;
The fruit is ripe, it's fantastic.
Lemon and lime, bunches of grapes;
And old bags, made of plastic.
Shake the branches
Gather the crop,
It's time to take them
Down to the shop.
Fresh plastic bags
On sale today.
There's a choice of colour:
Black or grey!
Apples and pears, peaches and plums;
The fruit is ripe, it's fantastic.
Lemon and lime, bunches of grapes;
And old bags, made of plastic.
There's plenty on the shelf.
No need to panic.
And next year's bags
Might be organic.
The bags are ripe
On the Plastic Bag Tree
Bags as far
As the eye can see.
Bags as far
As the eye can see.
Bags of bags
As I can see.
© Michael Rosen
---
Another Poem
As I've said before here, I've been doing some workshops at the Barbican as part of the Can I Have A Word project and I wrote a poem to go with some photos taken by Henryk Ross in the Lodz Ghetto during the Second World War (here are some of the pictures).
Henryk Ross
Then children from local schools came in and sat with me in the gallery and we talked about the photos, I talked about the poem. I told them the story of Leosia, the poem in 'You Wait Till I'm Older Than You', which is about a distant cousin of mine who survived the Holocaust by denying that she was Jewish and hiding what she thought were diamonds in the heels of her shoes. Together, we acted out tableaux from the photos, did little improvisations based around the idea of police asking who you were and first of all you telling the truth and being taken off to the Ghetto, and then telling lies about yourself (as Leosia did) in order to escape. We collected up on large pieces of paper some ideas from the photos: what people might be saying in the photos; what they might be thinking; what they could see going on; what they could hear. And then we talked about what I called 'Impossible writing'. This meant coming up with ideas about what things that don't speak or think or move might be saying, thinking, doing and hearing. So we talked about 'the pavement crying', or 'the cattle track gobbling up people' or, as one boy said,  'the rain is God's tears'. We wrote these up on a large piece of paper too, so that we now had five resources that we could use to make poems. I thought the children wrote some fantastic pieces and I hope that I'll be able to put some of these up fairly soon. Watch this space. In the meantime, here's the one I wrote before I worked with the children:
Today; One Day
Today
The rain has died
My shoes have died
The sun has died
My coat has died
The earth has died
Today.
One day
The rain will flower
My shoes will laugh
The sun will sing
My coat will fly
The earth will dance
One day.
© Michael Rosen
---
Word of Mouth
Word of Mouth is back. Mondays at 11.00pm, Tuesdays at 4.30pm. The competition we're running this series is called 'There Ought To Be A Name For It' and it's about coming up with word for some aspect of everyday life that doesn't have a word to describe it. So, for example, we don't have a word for those little bits of plastic that you get when you buy a shirt or a jumper, the ones you have to snip off or it'll end up sticking in your neck. Someone suggested it should be called a 'teg'. John Lloyd who wrote 'The Meaning of Liff' with Douglas Adams (author of 'The Hitchiker's Guide to the Galaxy' and is the person who devised 'QI' with Stephen Fry) suggested 'to birtle', meaning making something worse when you're trying to improve something. Anyway, if you fancy entering, make your way to the Word of Mouth website on the www.bbc.co.uk website and over to you. In the meantime, we're talking about rude words, words for and about diamonds ('Blood Diamonds' is doing very well at the box office at the mo) and words to think of for the centenary of the Boy Scouts movement. Dib dib dib and all that – though actually it's dyb, dyb, dyb…for a very good reason.
By the way, I found out that old Baden-Powell got some of the ideas for the Boy Scouts from a childhood hero of mine, Ernest Thompson Seton, who wrote wonderful animal stories. There was (and still is) some friction over whether BP 'borrowed' Seton's ideas without crediting him or whether it was all jolly cordial. Anyway, one tiny little detail from the story I found quite amusing: exactly 100 years ago, BP and Seton met up in London at the Savoy Hotel. Next time I go past the Savoy (probably on my way to Charing Cross Station and a school in Kent) I'll think of BP and ESP sitting in the Savoy saying, 'I invented it', 'No, I did', 'No, you didn't', 'Oh yes I did'…
---
Bristol Old Vic and the Polka Theatre, Wimbledon
Both these two theatres have decided to have a go at adapting 'We're Going On A Bear Hunt' for the stage. The Bristol version opens on December 15 and I hope to be seeing it a few days later and the Polka version opens in May 2007.
In case you don't know, the Polka Theatre is a brilliant theatre for children in Wimbledon, in South London and (puff, puff) I'm a patron. As a result they asked me to write something for their brochure about poetry. Here it is:
"People often ask me how to write a poem and what makes a good poem. The first way I answer is usually by not answering at all. Like this:
The best thing for anyone who wants to write poetry to do is to read a lot of it. What you need to do is get the hang of the way poetry works, the way it sounds, the way poets put thoughts, ideas and events together. Treat yourself, get yourself one anthology full of poems by different authors, and one collection of poems by a poet you like. Read these two books over and over again.
The second thing to do is get yourself a notebook. In this notebook, write down any words, phrases, sentences, snatches of language, notices, jokes, odd thoughts and saying that strike you as interesting. Just keep collecting. Sometimes you may want to copy out part or all of a poem. Sometimes it might be something that your grandmother said, or that you overheard on the bus. Keep all of it. Sometimes you might think it's interesting how this or that word rhymes or nearly rhymes with another. Jot it down. Sometimes you might have a really odd thought, or you discover that if you re-arrange a well-known phrase something odd comes out. Jot it down. Other times you might discover that if you put two words or two phrases together that usually don't go together, something interesting  happens – like 'scary' and 'tomato' or 'sleepy' and 'pencil'. Jot them down.
Other things to remember are:
That it's a great idea to write when you feel like writing. Don't delay it. Don't put it off.
That it's a good idea to show what you've written to people whose views you respect. Some people will be able to help you, others won't. You'll find out who these people are by yourself.
Poetry is a very wide-ranging field full of many, many different ways of writing, full of very many different things that people have chosen to write about. Don't ever get yourself into the trap of thinking that poetry can only be one way of writing, or about one kind of subject. That simply isn't true. Let yourself be open to all kinds. Let  yourself be surprised. Always be ready to try out different ways of writing, different subjects.
When you read poetry, see if you can spot how the poet has got you interested. Is that something you can do?
Here's the subject for a poem:
'What you see, isn't me.' "
---
The Poetry Friendly Classroom
Now it so happens that teachers sometimes ask me, what's the best way to get children writing, and one of the ways I answer is to suggest that the first thing to do is to create a 'poetry friendly classroom'. In other words, you can't really talk about writing poems that matter unless you make a classroom a place where poems are welcome. I usually suggest in my workshops that there are many ways of doing this and I can suggest some, but it's usually a good idea if teachers and the whole school think of ways this can be done. Here's some I suggest:
1. Without any explanation or questions being asked of the children, just try writing out a poem that interests you on to a very large piece of paper and sticking it up on the wall. You could also put some post-its next to it, telling the children that they could write anything that they want on the post-it to do with the poem. This could be questions that they would like to ask anyone or anything that appears in the poem, or it could be a question that they would like to ask the poet. At a later stage, you could all sit round and look at these slips of paper and see whether people have answers to any of the questions, have anything to say in reply to anything on any of the post-its. They could pretend to be the poet in order to answer the questions directed at the poet. If there were questions that were factual, they could come up with ways of finding these out, eg when did the poet live?
2. If you read a poem to the children and start looking at it in class, see if you can restrict yourself to only asking the children questions that you, the teacher don't know answers to. So, instead of asking, 'count the adjectives', or 'what kind of poem is this?' and the like, how about asking 'does this poem remind you of anything you've ever read before?' (or anything  you've ever seen on TV or on a film). Does anything in the poem remind you of anything that's ever happened to you? What kinds of things going on are similar and what kinds of things are different? As with the post-its, what kinds of questions would you like to ask of anyone or anything in the poem and/or of the poet? Is there anyone in the room who would like to have a go at answering these? (It might help to act out an interview here as if, say, you were interviewing Humpty Dumpty about how he felt about no one being able to put him together.) You could ask if anyone can see what I call 'Secret Strings'.
A secret string, is anything that links one word or phrase to any other. As we know, the most common of these is rhyme, but there's also rhythm, sentence length, repetitions of sound, phrase, image, patterns of various kinds. Quite often, the more you look, the more you find.
3. Poetry swap. This is a deal you can strike with children where you take it in turns to read poems eg teacher reads one, a child reads one. That way  you don't simply keep repeating the same kinds of poem. You could encourage anyone who reads to say why they chose the poem.
4. The Poetry Show. You divide the class up into threes and fours and each group chooses a book of poems and a poem from inside the book. Then in twenty minutes they choose a poem to present to the rest of the class. They can do this in any way they like so it could be reading the whole poem together, or it could be doing a mime and reading all or some of the poem. It could be taking a line or two and making up a song, or a dance to it. It could be dividing the poem up into different voices, solo and chorus. It could be using musical instruments and percussion of some kind.
5. Poem Posters. The children could make poem posters, taking a poem and working out a way of turning it into a poster that could go up on the wall in the school for a while. The more often these change then children in the school get the idea that there are hundreds of poems and you don't have to just stick with just a few.
6. Using other art forms. Poems are great ways to start work on other art forms, pottery, painting, dance, drama, music and film. They're great platforms for starting creative work in many different kinds of ways.
7. Notebooks: encourage the children to keep a poetry notebook. Suggest that they can write down any words or phrases that strike them as odd, interesting, difficult, amazing, puzzling, scary etc. If they have an idea for any interesting ways of saying things, jot them down. If they come across a phrase, a verse, a line from anything they've read anywhere – poetry, the newspaper, street sign, anything – jot it down. Write out poems or parts of poems in the notebook too. To help them, you can make a 'public' notebook that is up on the wall in the classroom, where you can write things that you've noticed.
8. I'm sure anyone reading this could think of plenty of other ways of making poetry friendly classrooms and schools. In this context, to talk about 'writing a poem' is completely different from the context of a non-poetry friendly classroom where, let's say, you hope that by reading a single poem, or by using a 'trick' from one of the How To Write A Poem books, you can get children to write great poems. If you create a poetry friendly atmosphere, what you do is build up a repertoire of poems in the children's heads. It's a resource they'll use without even knowing why or how.
Writing Poems
When it comes to writing poems, I suggest that one way to think of is it to ask how can we create a time in which the children can gather some thoughts and ideas that we can use to make poems? One way, is to think that the resources we have at hand are the things we say (if we are in the scene in question) or that other people say to us, the things we can see going on, the things we hear, the things we think, the things we feel, the things we are doing ourselves (if we are in the scene in question). There are many routes to tap into this: using photos, other poems, a title, a situation, a feeling, a memory, a story that I've been told, a moment or a scene in a play or a novel, a piece of music and so on. If we ask a question for each of these 'resources', as I've called them, then we can pool the answers. So, let's say we started from a situation, like 'Breakfast Time at Home', and we ask: 'What can you see going on?' You can pool the answers on a big piece of paper and pin that up. Same again for each of the others: saying (you and others), thinking, feeling, seeing going on, doing. So you end up with a series of big posters of all the things that people have come up with. This is a resource you can use to make poems, either class poems or individual ones.
You can show either by doing it yourself, or by comparing what you're doing with poems that have already been written and published, that you can make poems out of each or several of these different 'resources'. So you could write a 'seeing' poem about breakfast. Or a 'saying' poem about breakfast. Or you could write a 'thinking and feeling poem interrupted by 'hearing". And so on.
There are also ways in which you can introduce patterns to what you're writing, through rhythm, repetition and chorus. If you've got  a poetry friendly classroom going then these are the 'secret strings' I've talked about that you've probably started to notice.
You can also talk about what I've called 'Impossible Writing' on the post above called 'Another Poem'. You can show that you can write things that don't make sense but in a funny way they do. Take 'Hey diddle diddle'. A cow jumps over a moon. A dish runs away with the spoon. That's quite odd and is meant to be a bit funny, perhaps. But you can also do impossible writing about sad, scary or mysterious things. Like 'the bed started to eat me.' Or 'the sky bent down' or 'the lemon drove off.' This gives us another resource, another way of thinking that we can introduce into 'real' situations, like breakfast or as a way of writing in itself, say, about autumn, or the market or whatever. In the workshop I did with the children where we looked at the Lodz Ghetto photos, one child wrote '…and the leaves called out my name.' Yes!
Using this range of words to describe writing: saying, seeing, hearing, thinking, feeling, and impossible writing, actually gives you a range of very accessible ways of talking about poems that you read. You can spot how poets switch between these different senses.
---
Some Questions from a Year 1 Class With My Answers
Why are your poems so funny? Adam (5)
Hello Adam. I find myself laughing a lot at the things I see and hear. So maybe that funny stuff ends up in my poems.
How are you so clever? Ruby (5)
Oh Ruby, thank you, but you know everyone is clever at something. Some people are really clever at being nice to other people. Some people are clever at remembering what they did when they were very young. Some people are clever at knowing how to enjoy themselves. There are lots of different ways of being clever.
How many books have you written? Stan (6)
Hello Stan, I'm very sorry, but I've never counted. I don't know! Really!
Where do you get your ideas from? Bertie (6)
Hi Bertie, I get my ideas from the things I remember, the things I see, the things I hear, the things I say, the things other people say and the things that I imagine. I also get some ideas from the things that I read, or see on TV, in the theatre or at the cinema.
Why do you write poems? Amy (6)
Hello Amy. I think poems are good way to remember things, they're a good way to keep people interested in the way we are the way we are.
How long does it take you to write a poem? Oliver (5)
Sometimes, Oliver, they take ages and ages because I can't get them to sound right and other times they take just a few minutes.
Do you like eating vegetables? Sylvie (6)
Yes, Sylvie. Best of all I like French tomatoes, chick peas and Turkish cucumbers.
What's your favourite outfit? Kian (5)
Hello Kian. Jeans, t-shirt and a loose sweat shirt or jumper.
What's your favourite poem? Isaac (6)
Hello Isaac. I like some poems by Edward Lear, some poems by Carl Sandburg, some poems by William Shakespeare. Your teacher might be able to find some by these authors and see if you like them too.
Do you like helping children? Sam (5)
Yes I do, Sam. My parents did too. They were teachers. So perhaps I got the idea of helping children from them.
What's your favourite colour? Jude (6)
Dark blue, Jude.
---
Round-up
I've done a few bits of TV and a few to come:
One show of 'Never Mind the Full Stops' presented by Julian Fellowes. I was on with Ed Stourton, Ian McMillan and Jenni Murray. Great fun had by all. BBC 4 showing in early December, I think.
Some interviews to come: one for a programme about the Great British Comic (comic strip, that is, not comedians) and another for a programme about literature and the English village. Both programmes to be shown on BBC 4. Not sure when they'll be transmitted.
Finished filming a 40 minute programme for Teachers TV. It's about phonics, real books and all that. I will post here as soon as I've got a date for that.
Seven Stories Museum in Newcastle have got an exhibition coming up celebrating the art of the picture book, as exemplified by Walker Books. They've included 'We're Going On A Bear Hunt'. Here's the museum's website. More news on this shortly:
Meanwhile, Tyne Tees TV, Granada and Border TV ran a series called 'Seven Stories at Seven Stories' – seven programmes using new stories written by seven writers including me.
---
Unicorn
We had a nice time at the Unicorn launching Children's Book Week. Here is a picture from the day . . .
---
The Children's Bookshow
Here's a nice site to see what's happening with poets around the country. I should have put it up earlier but there are still a few dates to come.
http://www.thechildrensbookshow.com/
---
Dalston Lane
I live very near to where all this is going on:
http://opendalston.blogspot.com/
It may all break as a national scandal (which I hope), or it may just get brushed under the carpet as part of 'what's necessary' in order to get the Olympics done. Not far away, there's a road called Broadway Market.
A film about this will show at the Rio in Dalston at 11.30 pm on November 17 and I helped do the commentary for a film called 'The Battle of Broadway Market' which will be showing at The Albion, Goldsmith's Row, E2 on November 27.
---
Cable Street
My father and I spoke at the event that commemorated the 70th anniversary of what's come to be known as 'The Battle of Cable Street'. It was when the leader of the British Union of Fascists planned to march through what was then a largely Jewish quarter of London, the East End. Several hundred thousand people – including my Mum and Dad – assembled in the area to stop the Fascists coming. It turned into a 'battle' because the police of the day tried to force a route through. You can read more about the history of the day itself here:
. . . and here are some photos from the event last month . . .
It was a great day with music, food, bookstalls, exhibitions and a great chance for people to talk and reminisce.
---
A Little Article I Forgot About
Sunday Times
---
Treetops book – Michael Rosen's Scrapbook
I forgot to mention this properly. This is a little book of photos, poems, notes, cartoons and stories about how I came to write poetry. It's aimed at KS2 children and is part of Oxford University Press's Treetops series, non-fiction books for classroom use. To tell the truth, I feel quite proud of this book as it feels like it conveys a lot of what I think I'm about!
---
Grumble Belly and Bear Hunt
Two new (but old) books come out this month.
Mustard, Custard, Grumble Belly and Gravy is a book made up of two books that went out of print: You Can't Catch Me and Don't Put Mustard in the Custard. What Bloomsbury have done, is get me to give titles to all the poems, re-edit some of them, write an introduction and record all the poems for a CD that comes with the book, tucked into the back cover. Quentin Blake as redesigned the book and done some new drawings (including a very jokey one for the last page). This makes me one of those extremely lucky authors who has managed to bring some books that have been out of print back into print. I think Bloomsbury and Quentin have done a magnificent job in producing something that looks and feels so good.
Meanwhile, We're Going On A Bear Hunt goes into its latest incarnation as a pop-up. It's a great piece of engineering.
---
Learning Zone Filming
I've just done some filming for the BBC as part of its Learning Zone. Three poets: Kit Wright, Valerie Bloom and myself have been performing our poems to a group of children who were living away from home at Michael Morpurgo's City Farm in Devon. The ten-year olds were chosen from all over the country and spent a week listening, writing and performing in the company of Cat Francois and Paul Lyalls along with the BBC production team.
Anyway, a set of programmes will come out of this which will certainly be broadcast in the Learning Zone, and possibly on CBBC.
It was a great day, enlivened by a brief encounter with Kit Wright in the café on Exeter Station. In fact, I have brief encounters with Kit all the time as he lives about three hundred yards from me in east London. Our conversations usually consist of what we've just read and been perplexed by. As I had just finished reading John Stubbs' fascinating book about John Donne, this is what cropped up in the café on Exeter Station.
---
Teachers Channel Schedule
The third series of 'Reading Aloud' the programmes I've done for Teachers TV are going out this term.
Here's the latest schedule:
Prog 1   Tues 31 Oct, 2030 hours
Prog 2   Tues 7 Nov, 2030 hours
prog 3   Tues 14 Nov, 2030 hours
Prog 4   Tues 21 Nov, 2030 hours
Prog 5   Thurs 30 Nov, 1230 hours – why this is a different day and time no one seems able to explain but I'm assured it's correct!
Prog 6   Tues 5 Dec, 2030 hours
Dates are for each prog's first tx and from this date the prog becomes downloadable from the TTV website too. And of course the progs will all get repeated but I'm afraid not sure when.
---
Andy's article
A teacher I worked with in Rotherhithe and who is now a lecturer in Canterbury, Andrew Lambirth, has written and article about my work. I don't think I can give it to you online so here's the reference.
Changing English
Vol. 13, No. 1, April 2006, pp. 45-54
ISSN 1358-684X (print)
ISSN 1469-3585 (online)/06/010045-10
# 2006 The editors of Changing English
DOI: 10.1080/13586840500347517
It's called:
A ripple that ruffled feathers: an appreciation of 30 years of Michael
Rosen's poetry for children
Andrew Lambirth
Canterbury Christ Church University College, UK
This article is a personal appreciation and analysis of the poetry of Michael Rosen. Drawing on his work over 30 years, the article argues that at the heart of Rosen's work is a passionate belief in aesthetic, political and personal emancipation. Included in the pleasure that his work evokes, is a challenge to a number of preconceived notions about childhood, literature, relationships and living. He questions how children see adults and how adults see children, and with a breathtaking honesty, the whole world of children's literature and its impact on conceptualisations of children is put in the foreground. The article examines Rosen's use of autobiography in his poems, his groundbreaking use of free verse in children's literature and his relation to modernity.
Over the last 30 years Michael Rosen has become one of the best selling and most influential writers for children in Britain. He is a prolific publisher of poetry for children and adults and has worked with many illustrators, including Quentin Blake and Korky Paul. His work continues to stimulate, charm and grip the attention of children across the nation and abroad. In 1974, Rosen's first book of poems, Mind your own business, was published, and in the author's own words:
'In that tiny world of children's poetry there was a bit of a ripple. And if ripples can ruffle feathers, that's what happened' (M. Rosen, 1998, p. 8).
This article will examine the source of this ripple. It seeks to understand the impact of Rosen's work on children and the discourses that exist within the world of literature written for them. The autobiographical nature of much of Rosen's writing, the combined effect of free verse, humour and sadness, language play and the dramatically innovative way of portraying family relationships and childhood, forms part of a project for Rosen that advocates personal intellectual liberation. All these elements have been decisive in the success of his work. This paper begins with my own autobiographical thoughts.
Canterbury Christ Church University College, Canterbury, Kent CT1 1QU, UK. Email: a.lambirth@canterbury.ac.uk
---
BBC Imagine: Peter Pan
I'll be putting in a fleeting appearance on this. At least, I was filmed for it. What went on in the edit, is another matter!
17 October, BBC1 at 10.35 pm:
BBC Imagine Documentary on Peter Pan and Peter Pan in Scarlet, narrated by Robert Glenister, featuring Daniel Mayes as Peter Pan and Kate Mayberly as Wendy. It's a documentary by Alan Yentob covering the relationship of J M Barrie and Great Ormond Street Hospital, the history of Peter Pan, the genesis and making of Peter Pan in Scarlet, following Geraldine McCaughrean over the last few months in the build up to publication of her sequel.
---
Fellow Fellow
Two organisations have asked me to be a Fellow. But I'm already a fellow, so how come I'm now a Fellow and a Fellow? Well, this is what can happen if an august institution decides that you're on ok bloke and you've been round the houses and back. So now I'm a Fellow of the English Association and a Fellow of the Royal Society of Literature. I had a choice of signing The Book where Fellows of the RSL sign, with either Byron's or Dickens's pen.  Having written a little biography of Dickens I thought I ought to choose his, but someone had just quoted a scurrilous couplet from Byron. I was tempted to do the same. When Lord Castlereagh, a much hated minister died, Byron wrote:
'Posterity will ne'er survey
A nobler grave than this.
Here lie the bones of Castlereagh.
Stop, traveller, and p***.'
But I didn't get the chance. O shucks.
---
Radio
Thanks to anyone and everyone who wrote to me after Desert Island Discs and the series I did called 'On Being Inferior'. I'm sorry that recordings and transcripts of these aren't available online.
I also hope that one or two people had a chance to hear the little item on 'Twinkle, Twinkle, Little Star' that came up on 'Woman's Hour' (BBC Radio 4). A little background: I noticed that this year is the 200th anniversary of the first publication of the song. I told 'Woman's Hour' about it who then put together a really brilliant little feature looking at the music and poetry and talking about the lives of the two women, Jane and Ann Taylor, who were responsible for the poem.
If you fancy a listen it is on the BBC website.
---
National Maritime Museum
Photos of a show I did at the National Maritime Museum in Greenwich on July 19. By the way, apart from the odd experience of performing in a perfect eighteenth century echoing hall, surrounded with statues and chandeliers, there was one of those classic 'school visit' moments. About two minutes after I started, two teachers came in at the back, sat down and started to make some hats or masks for the children to wear later. This involved using sticky tape adhesive of some sort and pulling it off the reel. As you know, this makes a loud hissing noise, which in this echoing room, filled the air like a gun-shot. In between these noises, the two teachers discussed how they were going to make these hats work, so what was happening was that I was competing with a very loud model-making session.
They were quietly ushered out by one of the stewards.
---
Strange Truths
If you've ever wondered how insurance works, then you need look no further than the jolly time I've had with my car insurance. In June, our car was sandwiched between the front wheels of a Hackney Parking Patrol Van, travelling too fast or too wonkily, and the back end of a skip. In other words, the Hackney Patrol Van came round the corner, lost control and drove into the back of our stationary car and shunted it into the skip parked in front of it. Result: one squashed car which was written off.
In that lazy, curious way, I wondered if this meant that once the car had gone to the breakers yard, (that's to say, it had ceased to exist, it was an un-car, a late car, an ex-vehicle) that it would no longer need to be insured. Would I, I wondered, not have to pay any money to the insurance company in order to insure a car that wasn't a car? Common sense tells us, of course not. Why should I or you have to pay money to an insurance company to insure a vehicle that wasn't going to crash or be crashed into? In other words, there wasn't a vehicle that posed any kind of risk to my insurance company. But no no no, the insurance company will go on deducting my monthly insurance premium from my account to cover a car that doesn't exist. Hey, that's insurance!
I imagine a scene where I go into the offices of an insurance company and ask to take out a policy on a house I  don't own. Excuse me, could I insure my house? Of course, sir – where is it? It isn't anywhere. I just want to insure it pretending that it  was somewhere…
---
Guardian Stuff
Guardian article on books, libraries, reading and computers. It's by Chris Arnot who interviewed me.
Letter to the Guardian here.
---
Some websites
Here's a really interesting website for people studying or teaching A-level language courses.
And here's one for people interested in, as it says, 'rethinking education'
---
Hackney Library
Barry from Hackney Library was snapping away again this year. Here's his handiwork. I'm beginning to worry that I've only got one shirt.
---
Story from 1969
Barry also, very kindly, sent me a link to the BBC messageboard where someone has told a story about me from 1969 (true). The only mystery is why a conversation about Desert Island Discs and its guest ended up on the messageboard for 'The Archers'!
Here it is:
From:  Linda Fox
Date:  Wed, Aug 16 2006 12:27 am 

On Tue, 15 Aug 2006 21:51:06 GMT, Chris J Dixon wrote:

> Last week's (Michael Rosen) was a very good set of
> records though.

I missed that – must LA if it's still on. He was at Oxford the same time as me – one of those very well-known faces because he always seemed to be on the brink of getting into trouble, anti-establishment, a total wild child. I was so surprised when later he became such a cosy uncle-style figure for little children.

We had a sort of uniform called sub-fusc which was worn on very rare occasions like matriculating and graduating and formal exams. For the men it was a black suit and white shirt, white bow tie, mortar board and gown and generally they would add a white carnation. I remember seeing MR on his way to the examination schools wearing black jeans, a short black denim jacket, a bit of white rag knotted round his neck that looked suspiciously like an old bandage, and a piece of paper in his – well, where the buttonhole should be, anyway – with the words 'a carnation' written on it.
---
Birkbeck College
In the spring, I'll be tutoring a module in Children's Literature for a Birkbeck College, University of London, MA. Students enrolled for their MAs in modern literature and culture will be able to take it for an option. Details will go up on Birkbeck's website fairly soon.
---
Word of Mouth…
….is back for the summer. I won't be doing the first two in the series, which begins on Monday August 7 at the new time of 11 o'clock at night, with the repeat going out on the next day at 4.00pm. Standby for some items on such things as body parts, words that haven't been invented yet, cabbies' lingo and much, much more.
I was standing on Kings Cross Station and a bloke who I had never met before bumped into me and said, 'I really love Word of Mouth. I record it when I can.'
The peculiar thing about making the kind of radio programmes I get involved with is the silence. You sit in a room that is deliberately deadened so that there is no trace of echo or resonance and you talk to a microphone. Quite literally. You have to think of the microphone as a person's ear. And unlike ordinary conversations or performances in a theatre you have no sense of feedback at all. If the producer or the studio manager are enjoying it, you can't hear or (if you're looking down at your script) see how they're reacting.
And then there's the after-silence. Very few radio programmes are reviewed or discussed elsewhere. Your family and friends may well have missed the programme, so unlike writing a book, or doing a show, there's a non-response. A gap. A nowhere. So in a way, it's hard to place or position what you're doing. You just have a sense of it happening and going on happening.
This isn't a complaint, just a description.
Anyway, being accosted on Kings Cross Station and being offered a micro-glimpse into how the programme is received, revivifies the whole process.
---
October 3rd
We're Going On A Bear Hunt in glorious pop-up form is coming out on the same day as Mustard, Custard, Grumble Belly and Gravy.
The Bear Hunt book is a beast. It's huge. You can almost get into it and go through the forest (my favourite page) and through the snowstorm. Some people might be sad that you don't get Helen Oxenbury's marvellous picture of the bear slouching back to his cave on the last page. There wasn't room for it, I'm afraid. That'll just have to be an interesting extra bit, that people find in the other editions.
By the way, I got a phone call from my brother-in-law telling me that Bear Hunt appeared on, wait for it, Coronation Street. Oh yes, it seems as if the Doctor (sorry I'm not up with Corry. It's East Enders for me, if I'm feeling soapy) was reading a book to his son?/daughter? and, yes, it was Bear Hunt that he was reading.
This matches my other 'appearance' when a few months ago, Kimberley from (is it Girls Aloud?) was on the Frank Skinner Show.  They showed her as a four year old sitting in the toilet and performing a poem called 'I'm Finished'.  My step-daughter saw it and was pleasingly angry on my behalf that they didn't credit me for having written 'I'm Finished'. I should say here that my children are not swots on works by MR, and no reason why they should, but it just so happens that 'I'm Finished' is about the step-daughter who was watching the Frank Skinner Show.
So, how come four year old Kimberley was performing the poem? Because we filmed it as a Schools TV show many years ago, and the Skinner Show people, or Kimberley's press gang, must have dug it out.
Meanwhile, back with October 3rd, Mustard, Custard, Grumble Belly and Gravy is the book that combines Don't Put Mustard In The Custard (out of print) with You Can't Catch Me (also out of print). There they are in one volume, with a wonderful new cover by Quentin Blake, an extra pic or two through the book and a good joke at the back. And it comes with an intro by me and a CD that I've recorded too.
So October 3rd will in effect be re-hash day when two books come out which are in effect re-hashes of three books I've already produced. So October, will see me as some kind of reheated spag bol; a tyre that's had a retread; an engine that's had a recon; a suit that's been to the dry cleaners.
---
Oxford Story Museum
This website, tells the story of what's happening (or not) to the Oxford Story Museum. I wrote a poem for the launch of it, and it appears on this website with an explanation. It's meant to be a poem with clues, where you have to guess which book I'm talking about…If you come across a blank page under the heading 'Story Museum' I think this is possibly a joke. I mean it's a joke if you've ever read 'Tristram Shandy'.
---
Fouke le fitz Waryn
http://www.mythstories.com/fouke.html
http://www.mythstories.com/fouke2.html
http://www.mythstories.com/fouke3.html
These three websites have a long ballad I wrote for a celebration of the life of a Norman outlaw. I read it at the castle from which he was banished, and to which he eventually returned.
---
Pissarro
Some thoughts on a painting…
---
On Being Inferior
If you've ever been made to feel inferior, not good enough, unsatisfactory and the rest and you feel like talking about on radio, could you please get in touch with Gillian.darlington@bbc.co.uk
You'll be asked things about who it was, how you felt about it, did you go along with it, or did you find ways to resist what was said or done to  you? We're not looking for celebs. Just anyone with an interesting story to tell which would allow people to see that their own situation isn't unique and that the processes of put-downs and those who have been put down accepting it and fighting against it are only too common. I'll be presenting a series of four programmes on the subject for Radio 4, starting in August.
---
Henry
A few years ago, I was asked to run some workshops with students studying animation at the Royal College of Art. One of the students, Sam Morrison, was making a cartoon film about a laconic sort of a bloke called Henry who didn't understand why he wasn't getting on with his partner who, in turn, didn't seem to enjoy the way Henry practised heading a football in the front room. Sam asked me to do the commentary and a year or so later, late at night, I was in the kitchen and one of my kids started shouting from the other room: 'You're on the telly, Dad!' I rushed in, expecting to see my mug on the box, but no, it was Henry, and there was my voice. Sam had got a showing for Henry on BBC 2. Well, I got a note from Sam the other day saying that he was doing a sequel. Henry is now working in an office developing greetings cards. He has a great idea. Except it's not so great.
I don't want to give anything else away. I've just recorded the sound track for the film, so maybe in a year or so's time, it'll be around midnight, I'll be in the kitchen, and one of my kids will shout out, 'You're on the…' Yes, yes, you can guess the rest. Anyway, this Sam Morrison bloke is a blatantly talented young geezer. He writes, draws and rides a motorbike. He's even getting married soon. All that, huh? And so young.
---
Barbican
We had a wonderful afternoon at the Barbican on June 5. The 'we' in question was me, Francesca Beard, Jared Louche, John Agard and Valerie Bloom. Nearly two thousand children packed into the main performance space at the Barbican and we read poems, there were two bands, singing, dancing and general fun and mayhem. The idea behind the show was that we were on a journey and each one of us represented a stop on the journey. There was a linking poem between each stop that went like this:
You gotta move it
To prove it.
Move it
to prove it.
In the plane
On the train
Take a trip
On a ship
You gotta move it
To prove it
Move it
To prove it.
Take a hike
Take a bike
Use your feet
On the street
You gotta move it
To prove it
Move it
To prove it.
Are we there?
Where?
Are we near?
We're here!
(Copyright © Michael Rosen)
And everyone joined in roaring it out. Oooh it was seriously good fun. I should have some photos of it coming my way soon. These things take some time to cook, it seems, so I'll have to wait a bit longer for them.
---
Talk
I did a talk at Kings College, London for the education department. They have an annual lecture – the dearly beloved and sadly departed Ted Wragg did it just before he died, so I was hoping it wouldn't do for me. It'll be going up on their website very soon. In the meantime, here it is.
---
Film about Broadway Market
Fulcrum TV is a film company I worked with to help produce the tribute video for Paul Foot. I mc'd the memorial concert and Fulcrum brought out a video of it. Now they've put together the story of how people in Hackney, where I live are fighting to keep the houses and shops in Broadway Market out of the hands of developers. It's a long and sordid history, reproduced in other parts of Hackney, other parts of the UK and other parts of the world. Quite simply, local government agencies encourage big business to come into run-down communities, wipe out all local initiatives and local buildings and bung up luxury flats, or buy-to-rent places and call it 'regeneration'. Quite often, it doesn't 'regenerate' anything. All it ends up doing is tricking and evicting long-standing tenants, often of migrant origins, subsidising some mammoth project that no local people ever asked for, and putting in high-rent payers who don't stay in the area and are often only living there part-time. Anyway, Fulcrum asked if I'd do the commentary for the film. They haven't managed to sell it yet, but here's fingers crossed.
There are two websites telling the story of what's happening in the two sites I know of, Broadway Market and Dalston.
---
Mustard, Custard, Grumble Belly and Gravy
Bloomsbury are bringing out a combined edition of 'Don't Put Mustard in the Custard' and 'You Can't Catch Me'. It's going to be called 'Mustard, Custard, Grumble Belly and Gravy'. Quentin Blake has done a brand new cover and very jokey end picture and the poems have been re-titled, slightly altered to fit the way I tend to perform them. With the book, there's a CD of me reading all the poems and it comes out on October 3.
---
We're Going On A Bear Hunt
Meanwhile, Walker Books are bringing out a pop-up version of 'We're Going On A Bear Hunt' on the same day. I've got a couple of pre-publication copies and it is an extraordinary feat of engineering. My favourite spread is the one where the family are running through the forest – 'Stumble trip, stumble trip'. You have a real sense of depth and movement.
---
Totally Wonderful Miss Plumberry
Before that, Walker are bringing out a picture book I've done with Chinlun Lee called 'Totally Wonderful Miss Plumberry'. It is due for release on July 3rd and Amazon have a short preview and synopsis.
---
Literature Is Fun
October or November – Lecturer Piers Bilston and I are planning a Literature is Fun conference at London Metropolitan University. We're hoping to bring together practitioners and teachers who have any experience of aiding the enjoyment of books in schools. All exams and tests banned. We're looking for people who've worked in any of the arts in relation to books, or found interesting and exciting ways of simply enjoying literature in schools.  We hope that the day itself will be enjoyable with plenty of stories, drama, music, art and performance and people will come away from it, full of ideas of what they can do the very next day with their classes and groups. Look out for a poster and/or leaflet coming round in September. Watch this space for more info.
It occurred to me that in the present context of what's going on in English teaching in primary and secondary schools, this is perhaps the most subversive and dangerous thing to do. Literature and literacy have become a focal point for the maximum amount of anxiety about correctness, standards, grading and league tables. In fact, literature has become the handmaiden to literacy with the result that reading for enjoyment has slipped off the dial. Whenever kids are asked to open a book of fiction or poetry, they know that within seconds they are going to be asked questions about it.
In the past, I think I've been quite partial to the idea that there are some interesting questions to ask of books in education, but in the present context in which every question is part of the programme that leads to SATs, which in turn are part of the school league tables, I've come to the conclusion that literature is being forced into a vicious grading system that works against the impulse of what books, fiction and poetry are for.
With this in mind, I'm hoping that more and more people will want to set up workshops, conferences, festivals, symposia or whatever which are about nothing more nor less than the sheer enjoyment of literature.
---
University of Hertfordshire
I put on a Performance at the University of Hertfordshire for local schools on February 8th. Here are some of the Photos from the day.
---
A Great Headteacher
The headteacher of Columbia Primary School in east London is retiring. Penny Bentley was the head when two of my kids were at the school and I worked alongside her when she was a classroom teacher at John Scurr School, just down the road from Columbia. She ran the school with a great vision, rigour, persistence and commitment. She won loyalty from the staff and I've always enjoyed working in the school because of a whole school belief that the arts was a way in which children could develop a sense of themselves as people and a sense of themselves as a community (or communities) of people working together in a school.
A couple of years ago, I worked alongside a group of animators and together we devised a whole school CD-Rom and show that brought together the children's art-work, animations, poetry, music and performances. We used the general theme of water and a group of poets came in and all together, (that's every class) worked up this great artistic venture. It was brilliant. That needed a whole school commitment to something like that, and that can only come if a headteacher puts their weight behind it and believes in it. In my experience, there are not many headteachers who will do this. Penny has been one of them.
She has also been a great friend to my family and I'll never forget how wonderfully she acted as MC at the funeral of my son Eddie. She told the story of his life and introduced everyone calmly and yet full of sympathy and emotion. It was brilliant.
---
New Old Whitechapel Library
I've recently been filming in the old Whitechapel Libary for The Culture Show (BBC 2). Here are some shots from the shoot!
---
New Jewish Book Week at Hackney Library
Meanwhile, I can report that I had a great time at Hackney Central Library doing a reading for Jewish Book Week. What an interesting mix of people. I wondered if it be one of those occasions that people would feel that they could only go if they were Jewish. But no, there were plenty of people there who were most definitely not Jewish so it was a very open, free atmosphere. It was also all-ages. A woman on the front row who had been to hear a reading given by my father in the Voice Box at London's South Bank told me that she was two years older than him – so that made her 88 or 89. And there were children there down to as young as seven year olds.
One of the poems I read comes from one of my prose poem books for Penguin and it's about how Eddie used to tell a joke about a man with an orange for a head. His head was an orange. But I couldn't remember the joke. The joke's gone.
Anyway, I read the poem and read some more and talked some more and it got to question time. A boy who I guess was about nine or ten, was sitting right in the middle of the audience and he put his hand up and I said, yes? And he said, 'Did you ever find the joke?'
It was one of those questions that no adult would ask, but went right to the heart of the poem, the emotion and meaning behind the poem. Brilliant. Brilliant.
---
New Radio and TV
Another series of Word of Mouth comes to an end with a hilarious and enjoyable coin-an-aphorism competition and a session where Matt Harvey and I pulled Christmas crackers and discussed the jokes (see picture below). Yes, it gets that high-brow. Incidentally, The king of aphorisms who judged the competition on Word of Mouth was James Geary. Here's his site: jamesgeary.com/blog.
We're back in April on Tuesdays (not Friday's anymore) at 4.00pm and Sundays still at 8.30pm.
Me with Matt Harvey. Crackers…
In between, I've narrated a programme about step-families called Steps.
I also narrated a programme for BBC 4 called The Story of the Ghost Story. An interesting experience. When you do radio, most of the time you go into a special studio, that has great sand-filled doors that block out all sound from passing traffic, coffee machines and iPods. When you go to BBC4 and do a job like this, you're taken into the editing suite, where the producer and editor are putting the film together. It's right bang next to the open office where hundreds of people are sitting at their screens planning the Beeb's arts output for the next  year and various bods are walking past with news of the party tonight, the programme budget that's been slashed, the bacon sarnies in the canteen etc. Then the editor hands you a mic that's like one of those airport announcers mics, just sticking out of the desk and you fire away. Every now and then the producer will get up, look out of the door and shout, 'Oi, we're trying to record in here, you know!' and for a while people outside stop talking about their bacon sarnies. Next time you watch a TV doc and there's something harrowing going on in the Sudan, or something ever so aesthetic going on with Matisse, try and listen out for the bacon sarny guy in the background…
I appear briefly (I think) in a programme on the history of Jackanory, coming up soon. My top Jackanory of all-time has to be Kathy Burke doing The Twits. Wonderful, though Alan Bennett doing Winnie the Pooh had that strange, nostalgic, endless sweep of the middle class running through it. How does he do it?
I'm in The Culture Show (BBC2) of Feb 2, looking at the Whitechapel library of old and comparing it with the new Idea Store that's 500 yards down the road. My father used the old one and its Norman Lebrecht's argument that the new institution is a betrayal of all that was good about the old one. We meet and dispute the matter.
In September I'm writing and presenting a series for Radio 4 called On Being Inferior.
The programme for Radio 4 about Lewis Carroll, CS Lewis, J.R.R Tolkien and Philip Pullman all being amongst the world's most popular fantasy writers and all coming from and living in and near Oxford, goes out in April. The photos here show me faffing about in Oxford trying to find out if there's a thesis here or not.
The man I'm standing with is, Ron, the childhood friend of C.S.Lewis's step-son Doug. They used to play together in the grounds of CS Lewis's house.
The guide at Christchurch College Oxford standing in front of the little door that Lewis Carroll used to look at and watch Alice peering through, wishing that she could go into the garden beyond.
This is me at my old college, Wadham. First time I've been there since 1969! Mixed feelings.
This is the first Asian plane tree ever to be brought to Britain, and its branches inspired Lewis Carroll to create the Jabberwock. It's in the garden of Christchurch College.
---
New Book
I've got a new book out. It's called Dickens: His Work and His World, illustrated brilliantly by an Australian guy called Robert Ingpen – no relation of Mick Inkpen – well it wouldn't be, would it, because Ingpen and Inkpen are different names. Anyway, the book is about the life of Charles Dickens and how he came to writer such brilliant books. If you read it, I hope you enjoy it.
Hackney Central Library Event
Finally, here are some pictures of me doing my stuff in my local library. Big thanks to Barry for sending them to me.
---
Home Truths
Doing Home Truths on Radio 4 is like being taken into the rooms of complete strangers and being shown things that really matter to them. Over and over again. On the first day I was in the BBC to do it, I had five interviews to do in one morning. Mostly, you don't actually see the person you're talking to, they're in a studio somewhere else. I find myself staring at a piece of paper or the clock immediately in front of me so that I can concentrate on what they're saying.
And, you know, when you wear earphones, there's a way in which the sound of what you're hearing feels like it's in the middle of your head. I mean, it doesn't sound as if it's coming through your ears but is somehow in your brain without having to get there through your ears. All this means that it feels as if you are very close to the person you're talking to. Well, if that happens five times in a morning, it's quite bewildering. I had to have a good munch on a chicken salad sandwich after that.
Anyway, it's a fantastic programme to be working on, because the more you do it, the more you realise that the series as a whole tells the story of how we live now and how we have lived for the past fifty years or more. It doesn't tell it in the 'great sweep of history' way, but more as fragments and episodes. This chimes with me because it's exactly how I've been trying to write for the last thirty years or so!
---
Barbican
The evenings at the Barbican were really interesting. The exhibition is a mixture of very abstract looks at the idea of colour and various installations. This means that nothing tells a story or shows colourful things as such. You might have thought that this would mean that there's not much to write about. Not so! People had plenty to connect with. I wrote about a fire extinguisher. The fire extinguisher isn't actually in the exhibition. It's on the wall next to an installation called 'Red Room (Child)' by the great surrealist artist Louise Bourgeois. You look in through a window and see a lot of slightly disturbing red things, like two red hands holding each other.
I found myself attention caught by the fire extinguisher that was next to the work of art and somehow it all connected with a slightly disturbing event from my childhood when a boy broke into school and squirted a fire extinguisher all over the place. When I've polished it up a bit more, I'll put it up on the site.
---
Hon Doc
The Open University very kindly gave me an Honorary Doctorate. This is like a prize – their way of appreciating someone's work. It all took place at the Festival Hall in London, at the same time as the people who've studied for their degrees come to get their certificates. I had to dress up in a blue and yellow gown (Arsenal 'away' strip, really) and process. This means walking very slowly behind the bigwigs from the university down through the audience and up on to the stage. I should also say that the hall is not only full of students but also their friends and family. There were about 2000 people there.
It was very friendly, and before it all got going, a man took us through what would happen, and we had to rehearse, standing up, sitting down, bowing, turning, going over to a book and signing our names, coming back, sitting down and the like. It all seemed quite straightforward.
Then we had a very nice lunch overlooking the London Eye.
After that, it was the procession, up onto the stage, and wait my turn for the ceremony. You'll never guess what happened: at the crucial moment, just as I'm about to be given the certificate, I turned the wrong way, and, in front of 2000 people headed off the wrong way across the stage. So the Director of Studies was left standing there with my certificate in his hand while I wandered off.
The good thing about the occasion, is that this didn't seem to matter. Thanks very much, Open University.
---
I did it . . . er well, not quite
I opened the Rosen Reading Room at Edmund Waller Primary School. Of course, it could just possibly be named after all the other Michael Rosens there are in the world . . . like Charles Rosen, the word expert on music (no relation of mine), Michael Rosen, the world famous philosopher (not me), Michael J. Rosen, the world famous writer of children's books (not me – a very nice American guy from Ohio who I met once. I'm Michael Wayne Rosen, so we're not the same people), Michael Rosen, the professor of percussion (not me), Michael Rosen, the world famous record producer and one-time performer in the folk-rock band Eclection (not me), Michael Rosen, the world famous expert in how to put people to sleep (not me, though I tend to put my family to sleep. This guy is an anaesthetist.) And there are others, believe me.
Anyway, that's all beside the point. The school was very welcoming and the Mayor of Lewisham was there with his beautiful gold necklace (I think it's called a chain) and there was a sensational red ribbon. I didn't cut it entirely by myself. The school thought that it would be too hard for me to do on my own, so a boy who has been tremendously brave in overcoming a terrible illness did it. (I forgot to ask his permission to mention his name here.)
Then they played a piece of music called Fanfare for the Common People (or was it the Common Man? I'm not very good on titles.) It was by Aaron Copeland. And when the drum rolls sounded out, it made people jump. The head said that he had chosen that piece because 'we're all equal. Think about it.' I did.
After the ceremony, they served up CHOCOLATE CAKE. Good, or what? And then the headteacher showed me a kind of huge tree house-walkway thing that they're constructing. They're going to have to put up a sonar device to keep the foxes away, otherwise they'll burrow underneath it all. I once saw a fox when I was going to see Arsenal play. As foxes are red, I wondered if it was a supporter.
So, thanks very, very, very much to Edmund Waller School.
---
Wonderful Copenhagen
I had a fantastic time in Copenhagen and Odense, the birthplace of Hans Christian Andersen. Do you know how you say Andersen in Danish? You say, Annasen. I went with Lars Tharp and the BBC producer, Marya Burgess. You may have seen Lars on the Antiques Road Show. He was born in Denmark but left when he was six. He was great company and told all sorts of stories about Denmark, his parents and grandparents and we saw where Andersen was born, where he walked about in the city and I ate tons and tons of pickled herring. Lars likes Denmark and Danish food but I think even he was a bit amazed to see me eat pickled herring for lunch, tea, late evening snack and, wait for it, breakfast! Believe me, Danish pickled herring is one of the great delicacies of the world, especially with rye bread. It's a pity that the sound of me wolfing down pickled herring won't appear in the radio programme that we were supposed to be making.
Here are some pictures that were taken in Denmark:
Lars, me and very big Hans
On the way into the State Art Gallery where they were showing paintings of Italy from the time Andersen travelled there.
---
Michael Rosen Reading Room!
At a primary school in south London called Edmund Waller they're going to make a Michael Rosen Reading Room. Wow! a compliment or what? I'm honoured. In fact I'm so chuffed about it I'm going to go there to launch it. (Is that what you do to a reading room?) Anyway, if you see me around Peckham on June 8th with a big silly grin on my face, it's because I've been opening my reading room. Perhaps they'll let me read a book in my reading room, what do you think?
---
Orchard Primary School Library
On May 16, I opened a really great library at Orchard Primary School in Hackney, near where I live. A photographer came from the local paper but I haven't received the photos yet. When I do, I'll put them up on the site. I'm hoping that there'll be one of me cutting the red ribbon saying, 'I name this library, 'The Library'.'
---
Seven Stories Archive
I bundled up a pile of papers for the Seven Stories Museum of Children's Literature that is opening soon in Newcastle. I had to go through hundreds of old files and boxes to find sheets of paper that showed my writing and revising poems and stories. It was like doing archaeology on myself. I could seem myself as Tony Robinson on Time Team running about all over myself saying things like: '…and so far we've found the very first scribbles that went towards making the poem Don't from Don't Put Mustard In The Custard. We've only got another few hours. Will we find anything that tells us why this strange person from the mid twentieth century did these things?'
Anyway, in the end, I found quite a lot, shoved it in a box and a courier came to pick it up on May 18. I found the first manuscripts that I wrote for my two novels: You're Thinking About Doughnuts and You're Thinking About Tomatoes; the first drafts for some of the Eddie poems and the first draft for The Sad Book. It will all go into the archive at Seven Stories where anyone who wants to look at them can go and see them. And they can use them for their exhibitions or eventually, make files of them and put them up on their website.
---
Michael Rosen's Scrapbook
This is the name of a book I'm doing for Oxford University Press that will show how I write and how I got into writing. I'm right in the middle of it now. Yesterday, I was writing 'speech bubbles' with arrows that lead to lines of poems from Quick Let's Get Out Of Here and You Wait Till I'm Older Than You. In the bubbles, it says things about what made me write like that, or what I think about the person who said this or that, or suggestions for how you could read it out loud. Next, I've got to write about what it was like growing up in Pinner and what kind of person I was.
---
My Old School Friends
My old school friends, some of whom appear in my books, had a reunion this month. Sadly, I couldn't get to it, but one of the boys in my class has kept an old school magazine that we made and he sent me some it on an email. From Class 3 (I think I was about nine), there's an article by me about going to the Natural History Museum and joining the Junior Naturalists Club. I'll try and put it up on this site soon. I have to say, it's not the liveliest bit of writing I've ever read!!!
---
Sad Book Awards
Quentin Blake who did the wonderful pictures for Sad Book has been shortlisted for the Kate Greenaway Award for the work he did on the book.
The book has also won the Exceptional Award in the English 4-11 in the category for the Best Children's Illustrated Books of 2004 given by the English Association.
---
Scribbles For Seven Stories
The new museum of children's literature called Seven Stories, which will be opening later in the year in Gateshead, has asked me to get together some drafts of poems and stories to go in their archive. This means going through piles of old papers and pulling out some things that people might find interesting – scribbles, notes, ideas, that sort of thing. Then they'll carefully unravel it all, put them into folders, explaining what each bit of paper was for. They may even put one or two on display: my scribbles as part of an exhibition!
---
Poster
PCET have kindly reminded me that they have a poster of me available. You can view and order it here.
---
Hackney Museum
I've finally become a museum exhibit. Hackney Museum is running an exhibition of people who live in Hackney and like it. So they took this shot of me standing by the Red Cross's painting on the wall, which I remember from my childhood. It seemed so big then, as I went to see my grandparents, known to me by the Yiddish words Bubbe and Zeyde, grandma and grandad. Anyway, I've lived for twenty years only a hundred yards from this red cross, so it seemed kind of right to have it in the pic of me.
---
Reading Aloud
We've just finished filming the second series of this programme that goes out on Teachers TV. People say to me, what is Teachers TV? Where is it? When is it? TTV is an independent TV station funded by the government but independent from it, managed by an old acquaintance of mine, Andrew Bethell. I'm not sure who gets it on their TV sets but I get it via digital TV that is piped into our house via cable. It comes in on channel 240.
Reading Aloud is a fifteen minute programme about books that teachers can use in the classroom but also included a segment that is a discussion about any book that people in education might enjoy reading. This might be because it has educational interest, like Howard Gardner's 'Multiple Intelligences' book, or because, in some general way, it might interest the human being who happens to be a teacher – a book like 'Spies' by Michael Frayn, 'The Rainbow' by D.H. Lawrence.
When we're looking at books that teachers might want to use in the classroom, the programme takes a look at what a teacher has actually done with the children he or she has been teaching, and then I have a conversation with that teacher where he or she explains why and how they came to do what they did.
We also talk to individual writers like Jacqueline Wilson or Malory Blackman and look at any activity that might interest teachers interested in reading matters, like say, West Bromwich Albion Football Club's literacy initiative.
We don't film in a studio but Waterstone's in Birmingham let us use their store to shoot all the 'links' from there. This means I do a lot of talking and walking round bookshelves, in and out of the shop, or creeping round the pillars and arches of the store. The building itself is quite an oddity. It used to be a bank and was clearly built in the grand style that banks in the nineteenth century believed helped create the correct reverence for filthy lucre.
As you can see from the pix, I'm clad in a particularly fetching shirt, supplied by the great little outfit that put the show together, Television Junction. You can see them in the group shot being singularly unself-conscious, ahem ahem. (Many thanks to Rebecca from the Television Junction team for the photographs.
---
Home Truths
I've also just finished another run of Home Truths. People keep saying to me, who's going to take over from John Peel? Or, we heard that it was going to be Fi Glover. Would you do it, if they offered it to you? And so on and so on. All I can say is that the BBC likes to do things in its own sedate way. They didn't think that there was anyone who could or should just walk straight into John's shoes. They liked (and still do) the differences that the four main presenters and the several occasional presenters bring to the show. At present, I'm not aware of any decision having been made. That's to say, it might carry on as it is at the moment, a single presenter might be chosen, that presenter might be someone from the present team, or not! To tell the truth, I don't even know if the show itself is going to carry on. When people say to me, but that's not very good, is it? I both think and say, but that's showbiz. The entertainment business operates like that. It's very much a hire-and-fire kind of place. One moment, people might like this or that show, this or that format, this or that line-up or presenter and the next, they might cool. No one has a meal ticket for life, no one can assume that any bit of work you do, is a guarantee that the channel, or the execs will want anymore. What's more, you can never be sure that what you do or have done is actually very good. It might just be OK and no one has told you that that is all that is. If anyone working in the business doesn't like that way of going on, the best thing to do is look for another job.
---
Unicorn Theatre
On December 1, Britain's first purpose-built theatre for children was opened and I was lucky enough to MC a kind of curtain-raiser show. It was a way of saying to all the money-bags who had helped finance the place and I was introducing John Hegley, Adrian Mitchell, Jan Blake, and Amina Khayyam. The artistic director is Tony Graham and he finished off the occasion.
It's taken 45 years to get to this point, the Unicorn having started out as a roadshow inspired by a kids theatre fanatic, Caryl Jenner. They were housed for many years in a the Arts Theatre, just off Charing Cross Road, and then, while this new theatre was being built, in a temporary outfit called the Pleasance, in Islington.
I got a bit of a rise out of Tony in the compere-ing about this time in the Pleasance, because you could never find the place. It was stuck somewhere between two factories on an industrial estate near Pentonville Prison!
Anyway, great occasion, wonderful place – and the theatre itself beautifully designed, with all the audience really near to the stage. Get down there quick, quick, quick!
It's on Tooley Street, which is very close to London Bridge Station. If you know where the London Dungeon is, then all you have to do is carry on walking down Tooley Street for about another fifty yards and there it is, on the other side of the road.
---
Look Out For
'Waiting for Jamie Oliver: beyond bog-standard literacy' with articles by Bernard Ashley, Quentin Blake, Michael Morpurgo, Chris Powling, Alison Prince, Philip Pullman, Michael Rosen and Jacqueline Wilson published by that National Centre for Language and Literacy.
It's a great little booklet, firing a salvo off at the literacy programme presently installed in primary schools. Hurrah for Chris Powling and Bernard Ashley in particular for putting in all the effort to get this thing out. We had coverage in the Guardian Education section in November. You'll find the article through the search engine on the Guardian website.
---
Why Atheism DVD
You'll also find me on a new DVD called Why Atheism? I interview Philip Pullman, finding out why he turned to Atheism. I also have my own film on the DVD. Here are the full details from the flyer:
FILM 5 Defending the Faith-Debate (Duration 22mins) Michael Rosen, poet and atheist, takes on the religious convictions of a group of Roman Catholic 6th form students.The debate includes; science versus theology for understanding the origins of the universe, faith and life style, questioning the doctrine, is God on everyone's side? the Holy Ghost and the supernatural, saints and shrines, disasters and suffering. Engaging and challenging, non-believers and believers of all faiths will find their views tested.